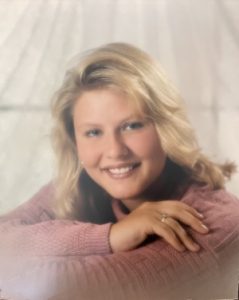 Terrah Sue Omo, age 43, of Constantine, passed away on Wednesday, August 4, 2021 at Bronson Methodist Hospital in Kalamazoo. Terrah was born in Three Rivers on December 4, 1977, a daughter of Robert and Theo (Holmes) Omo.  She graduated from Constantine High School in 1996 and then earned her Medical Assistant's Certificate from Ross Medical School in South Bend.
Terrah was married to Dollos "Bo" Terry.  She previously worked as a medical assistant for Dr. Arden Anderson in Elkhart, as a bartender for different restaurants around the area, and for Lippert Components.  Terrah's pride and joy was her family and she cherished every moment she got to spend with them, always putting them first.  She enjoyed attending her children's sporting events, painting, motorcycle rides, going on walks and bike rides, and Pokemon Go hunting.
She is survived by her parents Bob and Theo Omo of Jones, husband Bo Terry of Constantine, daughter Ashton Ford of Constantine, daughter Paige (Lance) Lumadue of Constantine, daughter Shailey Ford of Constantine, son Tommy Terry of Middlebury, son Riddikk Terry of Constantine, son Lushon Terry of Constantine, granddaughter Lilyanna Heiman, brother Michael (Bobbie Jo) Omo of Waterford, WI, grandmother Dorothy Holmes, and several nieces, nephews, cousins, in-laws, and lifelong friends.
Relatives and friends will be received Sunday, August 8 from 2 to 6 PM at Eley Funeral Home in Constantine.  Religious services will be held on Monday, August 9 at 11 AM at First Baptist Church of Newberg (13021 Born St., Jones, MI 49061), with Pastor Mike Owen and Mike Omo officiating.  Interment will follow at Poes Cemetery. Memorial contributions can be given to the family.