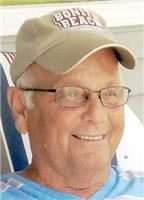 Terry Lee Carpenter, age 75, of Colon, passed away peacefully at home on Monday, Feb. 1, 2021.
Terry was born Sept. 10, 1945, a son of the late Saint Clair A. and Alyce (Wagner) Carpenter Jr. in Sturgis.
Terry graduated from Colon High School with the class of 1965. Following school, Terry stayed and lived his entire life in Colon. Terry worked for Kirsch Company in Sturgis, from where he would retire. Following retirement, Terry oversaw the custodial staff at Colon Community Schools for many years.
On May 10, 1974, Terry married Marilyn Lilly in Colon,.
Terry is survived by his wife, Marilyn Carpenter of Colon; two daughters, Kendra (Craig) Pierce of Sturgis and Tera (Tyler) Yesh of Colon; two grandchildren, Matthew Pierce and Taelyn Yesh; a sister, Judy (Thomas) Penrod of Ludington and Saint Clair A. "Butch" (Gloria) Carpenter III of Bluffton, Ind.; and several nieces and nephews.
Terry was preceded in death by his parents.
A Celebration of Life will be held on Saturday, August 14, 2021 from 2:00 to 4:00pm at the Colon Community Fire & Rescue Barn. There will also be a classic car, truck, jeep, motorcycle, etc. cruise in for those who want to participate. Terry had MANY classic cars himself so we felt this would be a great way to help honor his love for that. We will also be honoring his many years that he spent with the Colon Fire & Rescue Team.
Online condolences may be left for the family at Schipperfuneralhome.com.