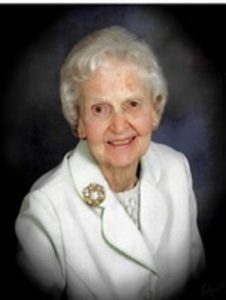 Thelma D. Brown, of Sturgis, passed away on Sunday, August 15, 2021, at Ascension Borghess Hospital in Kalamazoo, at the age of 99. She was born on May 7, 1922, in Salisbury, North Carolina, to Henry Lee and Annie Cloer, one of five children who preceded her in death.
Thelma felt a calling to serve God at a young age. She traveled across the country to Azusa Bible College in California at age 17 to pursue a career in ministry. There, she married Rev. D. Wayne Brown, and they began their life of service to God. Their first pastorates were in Montrose and Long Beach, California. Wanting to be closer to family, they moved east to Croswell and then Flint, Michigan, where they served Flint First Church for twelve wonderful years. During these years, Thelma also raised two children and obtained her Ministerial license and a B.A. in Elementary Education from Eastern Michigan University.
In 1967, Wayne became General Secretary/Treasurer of the Wesleyan Church and moved his family to the Headquarters in Marion and then Indianapolis.
Missing her role as a minister's wife, Thelma earned her Master's degree at Ball State University and taught school for several years in Marion and Indianapolis, Indiana.
In 1991, Thelma lost her beloved son, Don Wayne, Jr., followed by the death of her soulmate and husband of 50 years in 1993.
Thelma moved to Sturgis in 2008 to be closer to family, living first in Thurston Woods Village and then with her daughter on Lake Templene.
She was much-loved and will be sorely missed by her daughter, Judy (Larry) Livingston; grandchildren, David (Melanie) Abbott of California, Susan (Jeremiah) Abbott of South Bend, Indiana, Mary Ann Abbott of Chicago, and Stephen Abbott of Denver, Colorado; and great-grandchildren, Ashlyn and Landen Wiggins.
The family will receive visitors from 11:00 am to 1:00 pm on Saturday, August 28, 2021, at College Wesleyan Church, 200 E. 38th St., Marion, IN.
Immediately following the time of visitation, a funeral service to celebrate Thelma's life will begin at 1:00 pm. Pastor Larry Maddox will be officiating with burial taking place at Grant Memorial Park.
Arrangements are entrusted to Needham-Storey-Wampner Funeral Service, North Chapel, 1341 N. Baldwin Ave., Marion, IN.
Memorial contributions may be directed to Hospice Care of Southwest Michigan, 7100 Stadium Dr., Kalamazoo, MI 49009 and/or Michigan Braille and Talking Book Library, P.O. Box 30007, 702 Kalamazoo St., Lansing, MI 48909-7507.
Memories may be shared online at www.nswcares.com.