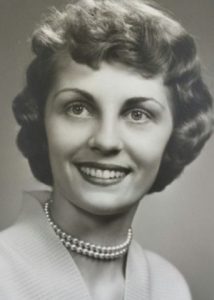 Arlene M. Scott, affectionally known as "Nana", age 85, of Colon, formerly of Merriville, IN, passed away unexpectedly on Friday, September 10, 2021.
Arlene was born on March 28, 1936 in Joliet, IL, a daughter of the late Albert and Cecilia (Benus) Fink.
Arlene graduated from Tolleston High School with the class of 1953.
On December 29, 1956 Arlene married her husband of 64 years Howard Scott, in Gary, Indiana.
Arlene is survived by her Husband Howard Scott of Colon, children: Cyndi (Hamid) Ghasvarian of Valparaiso, IN, Mark (Andrea Sims) Scott of Valparaiso, David (Patrick) Scott of Long Beach, CA, and Jon (Gina) Scott of Valparaiso, sister Evelyn Stickler, brother Mike Fink, grandchildren: Taylar and Rachael Scott, Russell Ghasvarian, Matthew Scott, Shannon Peeler, Adam (Tara) Earle, Joseph Pellegrino and Christopher Pellegrino, great grandchildren: Reagan and Wyatt Peeler, and Adaline Earle, and several nieces and nephews.
Besides her parents Albert and Cecilia, Arlene was preceded in death by her brother Albert Fink.
There will be a funeral service celebrating Arlene's life held on Saturday, September 18, 2021 at 12:00 PM EDT at the Schipper Funeral Home with Rev. David J. Farrell officiating. Interment to follow the service at Lakeside Cemetery. In lieu of flowers the family asks memorial donations be made to either the St. Joseph County Humane Society, or the Colon Fire and Rescue. Envelopes will be available at the funeral home. Online condolences may be left for the family at Schipperfuneralhome.com.