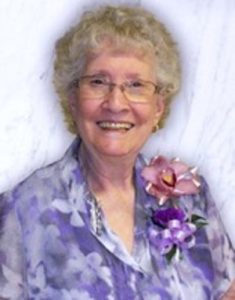 Elizabeth Faye Meek, age 90, of Peoria, Arizona passed away on Saturday, September 25, 2021 surrounded by her loving family.
Elizabeth (Betty) was born on June 15, 1931 in Colon to the late Charles and Faye (Eggleston) Williams.
Betty graduated from Colon High School with the class of 1950. She moved to Battle Creek and worked at Michigan Bell and Leila Post Hospital. On March 31, 1951 she married Forrest (Phil) Meek in Union City. They were married 67 years to the day as Forrest preceded Elizabeth (Beth) in death on March 31, 2018.
Beth traveled the world with her husband and children while Forrest served in the United States Air Force for 30 years. After retirement from the military, Beth and Phil owned and operated International Minute Press in Phoenix, Arizona until their retirement in 1997.
Elizabeth is survived by her three children: Phillip (Tracy) Meek of Bellevue, Iowa, Valerie (Michael) Pollock of Leonard, Texas, and Susan (Adam) Mehlhaff of Peoria, Arizona, 11 grandchildren, 9 great grandchildren, two sisters: Lillian (Jim) Blount of Tucson, Arizona, and Pam (Ken) Dady of Bellefontaine, Ohio, and several nieces and nephews.
Along with her parents and husband Forrest, Elizabeth was preceded in death by an infant daughter, Sherilyn Denise Meek, and a sister Margie Williams.
The Meek family will receive friends and relatives one hour prior to a celebration of life on Saturday, October 2, 2021 at 3 PM. Interment will follow at Lakeside Cemetery in Colon. An additional celebration of life will be held on Saturday, October 16, 2021 at 11 AM MST at Venture Church, 15410 North 67th Avenue, Glendale, Arizona. Condolences can be left for the family at Schipperfuneralhome.com.