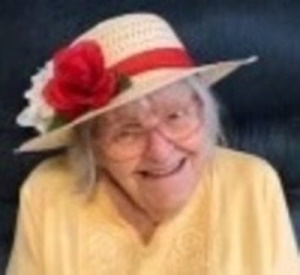 Carla Behrens, age 95, of Sturgis, passed away peacefully Tuesday morning September 7, 2021 at Thurston Woods Village in Sturgis.
Carla was born November 12, 1925 in Berlin, Germany to the late Walter and Helene (Wohlert) Richter.
Her family moved to Frankfurt, Germany shortly after she was born.
Carla started her career in Journalism in 1943 at the Frankfurt Volksblatt. In 1945, she was hired by the United States Military Government as an interpreter and secretary.
In 1945 Carla married her soulmate, Hans Behrens. They had two children: Gerhard and Eve. Carla and Hans were married for 47 years until Hans' passing in 1994.
After their daughter, Eve, moved to the United States to get married, they enjoyed yearly visits to Sturgis to be together with their family. Carla and Hans eventually moved to Sturgis from Frankfurt, Germany after they both retired. The two celebrated many wonderful years with their family at their lake home and truly cherished the time they spent together.
Carla loved to read and was a talented writer and poet. She documented her life story and ancestry several times in family journals with delightful illustrations. Carla was beautiful inside and out, and spent her days being the sunshine for all that met her. She was always smiling, laughing, and truly loving life with such a positive spirit. Carla's most treasured and loved moments were those spent with her family, especially her grandchildren and great grandchildren. Their times together would usually include abundant laughter and her favorite treat, ice cream. Carla also loved nature and truly appreciated being outside to enjoy any beautiful flower that she could see.
Carla was preceded in death by her parents: Walter and Helene Richter, her husband: Hans Behrens and her son: Gerhard Behrens.
She is survived by her daughter: Eve (Rod) Millard, her granddaughters, Julie (Justin) Lambright and Nicole (Thorsten) Klingenmeier, her grandson, Barrett (Deb) Millard, daughter-in-law, Dagmar Behrens, great granddaughters, Justine Lambright, Raven Millard, Carla Klingenmeier and Laura Klingenmeier and great grandsons, Julien Lambright and Dagr Millard, as well as many lifelong friends with whom she continued to exchange letters with throughout her life.
Carla's family will honor her with a private family service at a later date to celebrate her truly amazing and memorable legacy that will live forever in the hearts and memories of all that knew her and will deeply miss her each and every day.
The Hackman Family Funeral Homes of Sturgis is entrusted with the arrangements.
The obituary is also at www.hackmanfamilyfuneralhomes.com where we encourage relatives and friends to share memories and leave condolences for the family.