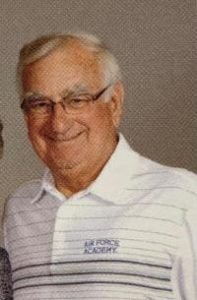 Daniel Zubryd, age 82, of Mendon, died Monday, Sept. 13, 2021 at Ascension Borgess Hospital in Kalamazoo. He was born in Greensberg, PA on Aug. 19, 1939 the youngest of nine children born to Charles and Catherine (Novak) Zubryd. After graduation from Herminie High School, Dan served in the U.S. Army and was stationed in France. He was married to Janet M. Gurksnis on May 8, 1965 in Herminie, PA. They moved to Mendon in 1966 when Dan took a position with Research Molding. He later worked at Hydra-Matic in Three Rivers from 1979 to 1988; at Crocker Limited from 1988 to 1997; and then became an independent contractor at Watcon of South Bend.
Dan was a loving and devoted husband, grandfather, and friend to many, He had a wealth of knowledge and experience that he was always happy to share. He was active in his church and loved spending time with his family, especially his grandchildren. Dan was an avid sports fan, especially football, following the Mendon Hornets, Notre Dame Irish, Air Force Academy Falcons, and the Pittsburgh Steelers. In his younger years he enjoyed golf in his spare time and pontoon rides on the St. Joe River.
Dan is survived by his wife, Janet; two sons, Daniel C. (Erin) Zubryd of Mt. Pleasant, SC and Glenn (Tanya) Zubryd of Norton Shores, MI; five grandchildren, Evan, Madelyn, Ava, Keira, and Thomas; a sister, Agnes Cebulko of Trenton, NJ; and many nieces and nephews. He was preceded in death by three brothers, Joseph, Harry, and Mike Zubryd; and by four sisters, Juell Wright, Marion Stetter, Olga De Ramo, and Helen Kuklish.
The family will receive friends from 4 to 7 pm Friday at the Eickhoff Funeral Home in Mendon. The funeral mass will be at 12:00 noon Saturday, Sept. 18, 2021 at St. Edward Catholic Church in Mendon with Msgr. Thomas Martin officiating. Burial will be in St. Edward Cemetery. It is suggested that memorial donations be directed to either the Mendon Schools Foundation for the Fryling At-Risk Fund (on the memo line), or to the Mendon Township Library. Memories and condolences may be shared at www.eickhofffuneralhome.com