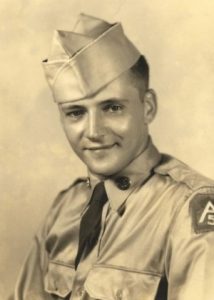 Howard G. Scott, age 87, of Colon, passed away Saturday, September 18, 2021 at Three Rivers Health.
Howard was born in Colon on January 15, 1934, a son of the late Paul W. and Gladys R. (Hotrum) Scott.
Howard attended Tolleston High School in Gary, Indiana. Following high school Howard served his country in the United States Army. Howard worked for Superior Construction in Gary, Indiana for 45 years until retirement in 1996.
Howard married his wife of 64 years Arlene M. Fink on December 29, 1956 in Gary, Indiana. She would precede him in death a week prior on September 10, 2021.
Howard was a very humble and kind man. He was known for gardening. Howard had kept a garden for 60 years and was always very proud of it.
Howard is survived by his children: Cyndi (Hamid) Ghasvarian of Valparaiso, Indiana, Mark (Andrea Sims) Scott of Valparaiso, Indiana, David (Patrick) Scott of Long Beach, California, and Jon (Gina) Scott of Valparaiso, Indiana, grandchildren: Taylar and Rachel Scott, Russell Ghasvarian, Matthew Scott, Shannon (Earle) Peeler, Adam (Tara) Earle, Joseph and Christopher Pellegrino, great grandchildren: Reagan Maxfield, Wyatt Stalhandske, and Adaline Earle, a half-brother Herbert E. Ward, and several nieces and nephews.
Besides his parents and his wife Arlene, Howard was preceded in death by his two sisters: Pauline and Eleanor.
The Scott family will receive friends and relatives on Saturday, September 25, 2021 from 10 AM to 12 PM at the Schipper Funeral Home in Colon. A funeral service celebrating the life of Howard will be held following the visitation at 12 PM also at the funeral home with Rev. David J. Farrell officiating. Interment will follow at Lakeside Cemetery in Colon. The Scott family invites anyone who would care to join them in honoring Howard by wearing Jeans and a Flannel Shirt. In lieu of flowers the family asks donations be made to Colon Fire & Rescue, and the St. Joseph County Humane Society. Envelopes will be available at the funeral home. Condolences may be left online at Schipperfuneralhome.com.