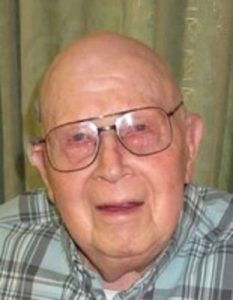 Jake M. Haylett passed away on Friday, September 17, 2021 at Thurston Woods Village in Sturgis at the age of 93.
He was born on March 8, 1928 in Bethel Township to Forrest and Gladys (Peppiatt) Haylett.  He graduated from Coldwater High School in 1945 and served in the U.S. Army (1946-1948).
Jake married Cora Jean (Leatherman) on October 30, 1949, a union that lasted 71 years until her passing in April 2021. He is survived by three sons; Ned (Mary) Haylett of Sturgis, Tom (Sharon) Haylett of Coldwater, Jeff (Debra) Haylett of Fort Myers Beach, FL and a daughter, Carol (Ali) Tafavoti of Midwest City, OK. He is also survived by six grandchildren, four great-grandchildren, and one great-great granddaughter..
He was preceded in death by his wife, Cora Jean, parents Forrest and Gladys Haylett, brothers, Olen Haylett and Max (Mike) Haylett and sisters, Velma Nutt, Alice Haylett, Anna Mae Emmons, Betty Hilton and one grandchild, Jacob Haylett.
He is best remembered for his dedication to local farmers and his expertise in tractor and farm implement repair. In later years, he was also well known in various dentist, doctor, and financial service offices for his supply of candy kisses and good humor.
Cremation has occurred. No memorial service will be held. The family especially thanks his caregivers at Thurston Woods Village for their attention, patience and kindness during his residence there. He genuinely enjoyed their company and was appreciative of their care.
Donations in memory of Jake can be made to:
Jake M. Haylett Agriculture Scholarship, BISD, Attention Ms. Tonia Vorce, 366 Morse Street, Coldwater, MI 49036 or use the link: http://branch-isd.org/donate/
Funeral arrangements are entrusted to Dutcher Funeral Home in Coldwater. www.dutcherfh.com