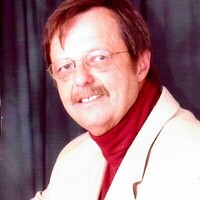 Jerry Lou McNall, age 80, of Rockvale, TN, died September 10, 2021 at his home.  He was born in Battle Creek on August 9, 1941 to Kenneth and Marian (Densmore) McNall.  After graduation from Union City High School in 1959, Jerry would marry Elaine Gerard in 1961.  He went on to work for 12 years as a production worker at Continental Can.  Jerry would later marry Patricia Stevens (Holtz).  In 1978 he worked for General Motors until 1989 when he transferred to Saturn and moved to Tennessee, where he would then retire in 2004.
In his earlier years, he loved to golf and travel.  He loved country music, watching sports, and spending time with his children and grandchildren.  He was a lifetime member of the Eagles and the Elks, where he was a past master with the Masons and in 1982, he was the Grandmaster.  Jerry was a kind, gentle man with a dry sense of humor who was dearly loved by family and friends.  He was generous and hardworking and was a great provider for his family.
Jerry is survived by his two children; ­­­­­­­­­­­­­­­­­­Kimberly (Ruben) Vaughn of Rockvale, TN, and Jill (Darren) Hill of Sturgis; four grandchildren, Kayla Kanouse, Kyle Kanouse, Megan (Jacob) Gauthier, and Joshua Hill; three great grandchildren, Ava, Addison, and Rylie; two sisters; Cheryl (Gary) Stechschulte of Coldwater, and Linda Soto of Hillsdale.  He was preceded in death by his parents, sister Lois Mobley, brother Gary McNall; and a son Tim McNall.
In keeping with the family's wishes, a cremation has been conducted.  There will be a graveside service on October 9, 2021 at 1pm, at the Riverside Cemetery in Union City with Brad Waite officiating.  After the interment, there will be a gathering with the family to which all are welcome. It is suggested that memorial donations be directed to Shriner's Hospital for Children at lovetotherescue.org   or   St. Jude Children's Research Hospital at stjude.org
Memories and condolences may be shared at efhchapel.com