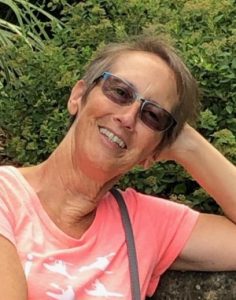 Joan Elizabeth Dykstra, age 65, of Sturgis, passed away Sunday, July 25, 2021 in Engadine, Michigan.
She was born February 13, 1956 in Three Rivers, the daughter of Ray C. and Joyce Elaine (Rider) Gilbert.
Joan met her husband, Terrill "Terry" Dykstra while working at Harding's Pharmacy in Three Rivers; the couple married on May 14, 1976. Terry was the love of her life, with whom she cherished two children, Elizabeth and Brian.
After graduating from Sturgis High School in 1974, Joan received her associate's degree in computer programming from Kalamazoo Valley Community College.
She worked at Telemark and later for Sturgis Public Schools, where she assisted with computer classes and special education classes before retiring in 2012.
A member of Three Rivers Christian Reformed Church for many years, Joan taught Sunday School, led youth group, and directed Vacation Bible School. She loved her Lord and Savior Jesus Christ, and trusted in His mercy, looking forward to eternal life with Him.
Joan valiantly battled ovarian cancer for 13 years, inspiring many with her fortitude, determination, and zest for life. Six months after her diagnosis, she completed the Walt Disney World Marathon Weekend Goofy Challenge, finishing a half marathon and full marathon over two days. She went on to finish countless other races across the country. She was a fountain of energy, taking up activities like paddleboard yoga, and was an avid gardener and landscaper. She enjoyed photography, music, watercolors, and crafting.
Joan most enjoyed being with her family, especially at Hiawatha Sportsman's Club in Michigan's Upper Peninsula, where she vacationed her entire life. There she enjoyed the beach, fishing, looking for deer, hoping to spot a bear, and watching beautiful sunsets. It was there, surrounded by loved ones, that she spent her final earthly days.
Remaining to cherish her memory are her husband, Terry; daughter, Elizabeth (Eric) Delle; son, Brian (Samantha) Dykstra; brother, Steve (Pam) Gilbert; and sisters, Barbara (Wayne) Taylor and Eloise (Mona Posinoff) Gilbert.
She was preceded in death by her parents.
Joan has willed her body to the University of Michigan for medical research, ensuring that she will give others the gift of life.
Visitation will be held September 11, 2021 at 10 a.m. at Hohner Funeral Home, 1004 Arnold St., Three Rivers, followed by a memorial service at 11 a.m. at the funeral home. Pastor Dan Lane will officiate.
Donations in Joan's memory may be directed to the Michigan Ovarian Cancer Alliance. Envelopes are available at the funeral home.