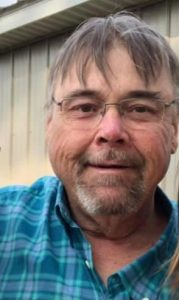 Randy G. Martin, age 58, of Centreville, passed away on Sunday, September 26, 2021 at Ascension Borgess Hospital in Kalamazoo.  Randy was born in Sturgis on September 21, 1963, a son of Cleo and Lydia (Hawn) Martin.  Randy graduated from Centreville High School in 1982.  He enjoyed hunting and fishing, and was an avid University of Michigan football fan.  On August 12, 2000, he married Joanne Gilmore in Centreville.  He worked for Miller's Excavating in Shipshewana as a construction truck driver.
Randy is survived by his wife Joanne Martin of Centreville, daughter Mallory (James) Phillips of Three Rivers, daughter Luna Martin of Centreville, stepson Todd (Jenell) Williams of Centreville, stepdaughter Christina Williams of Sturgis, several grandchildren and great grandchildren, sister Diana Miller of Mesick, sister Connie Thomas of White Pigeon, sister Jerry (Clayton) Lyczynski of Sturgis, sister Patty Salter (Gale Blemmings) of Mesick, brother Tim (Yvonne) Martin of Mendon, brother Larry (Carrie) Martin of Bristol, and numerous nieces and nephews.
He was preceded in death by his parents.
Relatives and friends will be received Friday from 11 to 1, with a religious service following at 1 PM, all at New Beginnings Church (63022 M-66, Sturgis, MI 49091).  Pastor Randy Evans will officiate.  Interment will be in Peek Cemetery.
In lieu of flowers, the family requests memorial contributions be given to Eley Funeral Home to assist with final expenses.   Please visit www.eleyfuneralhomes.com to sign Randy's online guestbook and to leave a message for the family.