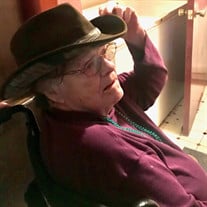 Bonnie Jean Wilmore, age 77, of Marcellus, passed away Thursday, September 30,2021 at Bronson Hospital in Kalamazoo.
Bonnie was born in Marcellus on May 23, 1944, the daughter of Gene Francis and Emma Mae (McKenzie) Romig.
Bonnie worked as a server for the local family restaurant Nip & Tuck and was a secretary, working for many years at Abbott & Powers Insurance Company of Marcellus.
Bonnie's greatest passion was spending and cherishing her time with her children and grandchildren, whom she valued and loved more than anything. Bonnie was the Head of the Athletic Boosters during the 1980's, a part of the Marcellus Village Council, and she regularly enjoyed participating in helping deliver food to those in need through the town's food pantry.
Bonnie is survived by her daughter Laurie (Delbert) Ritchie of Elkhart; sons Bob (Mary Beth) Wilmore of Elkhart and Brian Wilmore of Marcellus; 2 grandchildren; sister Linda Hass of Elkhart; and sister-in-law Jennifer Romig of Dowagiac.
Bonnie was preceded in death by her parents Gene and Emma Romig and brother Michael Romig.
Cremation has taken place. Funeral services will be held at Marcellus Cemetery at 2 p.m. on October 16, 2021 with Pastor Delbert Ritchie of the Word of Life Fellowship of Elkhart officiating services. Memorial donations may be directed to the Cass County Council on Aging (60525 Decatur Rd, Cassopolis, MI 49031). Online condolences may be left at www.materralstonfuneralhome.com.