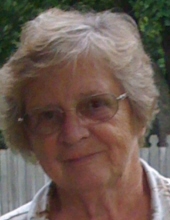 Carolyn Ruth (Allred) Sutton, age 86, of Burr Oak, passed away Wednesday afternoon, October 13, 2021 at her home.
She was born September 11, 1935 in Hastings, Michigan daughter of the late James Robert and Emma Ruth (Jenkins) Jordan.
Carolyn resided in Sturgis most of her life and was a graduate of Belleview High School in Belleview.
On March 20, 1952 she married Barney Allred in Battle Creek. He preceded her in death on July 23, 2001. While attending a hospice grief support group she met Isaac Sutton and on December 31, 2004 they were married by the Rev. Rodger Moyer at the Sturgis Evangelical Church.
Carolyn retired from the Telemark Diversified Graphics in Sturgis following many years of dedicated employment. Prior to joining Telemark she worked at Sturgis Newport Business Forms for over 25 years until the closing of the company.
She was a member of the Sturgis Evangelical Church and the Burr Oak Methodist Church Women's Organization. She enjoyed volunteering her time with hospice, gardening and fishing and loved doing farm chores with Isaac.
She is survived by her husband: Isaac; one daughter: Tina (Tony) Lane of Atlanta, Georgia; two sons: Mark Allred of Paw Paw and Lynn Allred of Hampton, Virginia; two granddaughters: Morgan Lane of Auburn, Alabama and Leah (Mike) Sailor of Crestview, Florida; great grandson: Nicholas Hartman of Crestview, Florida; three step-sons: Guy (Tim Gilger) Sutton of Sturgis, Ben (Connie) Sutton of LaGrange, Indiana and Danny (Tina) Sutton of Burr Oak; two step-daughters: Deanna (Glen) Taylor of Columbus, Ohio and Colleen (Jim) Bucknell of Bessemer; several step-grandchildren and step-great grandchildren; brothers and sisters: Paul (Bea) Jordan of Battle Creek, Maureen (Lyle) Hugget of Paw Paw, Donnie (Lora) Jordan of Marshall, Elvene "Elle" (Ron) Hoogakker of Galesburg, Helen (Tom) Binkowski of Olivet and Jean (Tom) Reid of Nashville, MI and many nieces and nephews.
She was preceded in death by her parents, first husband, sister: Janet McNutt; brother: David Jordan; step-brothers: Emmett Jordan and Bob Jordan; step-son: Isaac Sutton and special friend: Phyllis Minnis.
The family will receive friends from 2:00 to 3:00 P.M. Saturday at the Sturgis Evangelical Church, 28201 E. Fawn River Rd. in Sturgis where funeral services celebrating the life of Carolyn (Allred) Sutton will begin at 3:00 P.M. Saturday. The Rev. Rodger Moyer and Troy Diersing will officiate. A time of further fellowship and the sharing of a dessert will follow the funeral service in the church fellowship hall. A graveside committal will take place at the Burr Oak Cemetery in Burr Oak.
The Hackman Family Funeral Homes of Sturgis is entrusted with the arrangements.
The family suggests those wishing to make a memorial donation in Mrs. Sutton's memory to consider Three Rivers Hospice, 711 S. Health Parkway, Three Rivers, MI 49093.
The obituary is also at www.hackmanfamilyfuneralhomes.com where we encourage relatives and friends to share memories and leave condolences for the family.