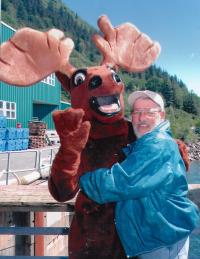 Longtime Engadine, Michigan resident, Charles "Bub" Henry Fosdick III, age 78, died Friday morning, October 22, 2021 at U.P. Health Systems-Marquette.
Born December 24, 1942 in Kalamazoo, son of the late Charles Jr. and Jessie (Ryder) Fosdick, Charlie was a 1960 graduate of Three Rivers High School and attended Ball State University in Muncie, Indiana.
On November 13, 1964, Charlie enlisted in the United States Army serving during the Vietnam War until his honorable discharge on August 22, 1966 attaining the rank of Specialist Fourth Grade. Following his discharge, Charlie returned to Three Rivers and worked with his father at his trucking company.
A resident of Engadine since 1970, Charlie owned and operated several businesses including a beverage distributorship, Crazee Charlie's Auto, Little Charlie's Ice Cream, and was an auctioneer until his retirement in the 1990's.
Charlie was a member of the Engadine United Methodist Church, member of the former V.F.W. Post #8372 and member of the American Legion Post #290. His hobbies and interests included fishing at the family cabin in Canada, loving all his dogs (Ginger, Pipsi, Jude, Patty, Misty, Shiloh I, Shiloh II, Shiloh III, and Shiloh IV), fixing anything and everything "Grandpa can fix anything!", cooking the best blueberry pancakes for his grandkids, and attending his grandchildren's events. Charlie was certainly a people person and enjoyed talking with anyone and everyone.
Survivors include his loving wife, the former Susan Drew, whom he married May 23, 1965 in Three Rivers; children Charlie IV (Sheila) Fosdick of Engadine, Andrea Petoskey of Hamilton and Sharon (Roger) French of McMillan; grandchildren Hannah French, Drew French, Leah French, Oliver French, Charlie Fosdick V, Jesse Fosdick, Josie Fosdick, Sydnie Petoskey and Kendall Petoskey; sister Becky (Jim) Wise of Three Rivers; brother and best friend Bill (Maureen) Fosdick of Williamsburg; and his pet companion dog, Shiloh IV.
Per request, cremation services were accorded.  A gathering of family and friends will be held Friday November 5, 2021 from 1:00 pm to 2:00 pm at the Engadine United Methodist Church.  A memorial service celebrating the life of Charlie will follow at 2:00 pm at the church with Pastor Jackie Roe officiating.  Interment with military rites conducted by the American Legion Post #290 and the United States Army Honor Guard will take place at the Engadine Cemetery with a meal following at the America Legion Post in Engadine.
Memorials may be directed to the Engadine United Methodist Church or the American Legion Post #290 in his loving memory.
Condolences may be expressed at www.beaulieufuneralhome.com
Beaulieu Funeral Home in Newberry is assisting the family.