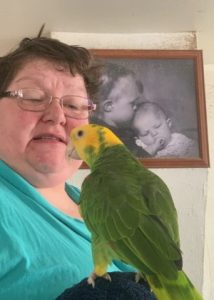 Daphnye R. West, age 51, of Colon, passed away unexpectedly at Three Rivers Health on Monday, October 25, 2021.
Daphnye was born in Detroit on August 30, 1970, a daughter of William and Kathryn (Henderson) Swan.
Daphnye graduated from Colon High School with the class of 1989. Following graduation, she attended Glen Oaks Community College where she obtained an Associates Degree in Early Childhood Education.
On November 20, 2004 Daphnye married Scott E. West in Colon at the New Life Assembly of God Church.
Daphnye is survived by her husband Scott E. West of Colon, her two daughters Abby and Chloe, her mother Kathryn Swan of Sturgis, brother Will (Megan) Swan of Sturgis, and her three nieces: Katelynn, Kristina, and Karalynn.
Daphnye was preceded in death by her father William Swan, and mother-in-law Geraldine West.
The West family will receive friends and relatives on Wednesday, October 27, 2021 from 1 to 4 PM with a funeral service following, beginning at 4 PM with Pastor Chuck Vizthum officiating. Cremation will follow the funeral services. In lieu of flowers, the family asks memorial donations be directed to the West family for help with funeral expenses.