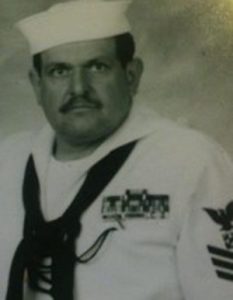 Donald Lee Eastman, age 75, of Colon, died on Saturday, October 16, 2021 at his home. He was born August 4, 1946 in Chikaming, MI a son of Donald T and Martha (Woodrick) Eastman. Donald graduated from Three Oaks High School class of 1966 and from Glen Oaks Community College, receiving a degree in drafting and design. He was a career Navy man serving from 1966 until retiring in 1988 as Boatswain's Mate 1st class Petty Officer. He served on several ships such as the USS Duluth and the USS Midway. After the navy he settled with his family in Colon.
On April 20, 1972 he married Linda Ann Brown. She preceded him in death on March 12, 2021.
Following Don's Navy service, he worked at Walmart in Sturgis for several years and he also enjoyed being Santa Claus at various foster homes and Wal Mart. He was also active with Heartwood Renaissance Academy in Three Rivers. Don was an avid outdoorsman, enjoying camping hunting and shooting with his wife, children and grandchildren. Don was a member of St. Paul's Lutheran Church and Colon American Legion. Don cherished his family, loved his wife unconditionally, and looked forward to going home to dance with her again.
Surviving are his children Shannon Eastman, Owosso, Heather Eastman, Tuscumbia, AL, Colin Eastman, Colon, grandchildren Kaleb, Seth, Jake, Erin, Emmalee, Skyler and Alivha, great grandchildren Wyatt, Nova, Kole and Colton, sisters Caroline and Joyce, brothers Edwin, James and Mark, many nieces and nephews.
He was preceded in death by his parents, wife, sister Linda and brother Terry.
Relatives and friends will be received Friday from 11am to 1 pm at Schipper Funeral Home in Colon, where Religious services will follow at 1 pm Friday. Pastor David Grimm, Creator's Praise Ministries, will officiate. Interment will be in Lakeside Cemetery, Colon. Memorial contributions may be directed to the Wounded Warrior Project. Online condolences may be left at www.schipperfuneralhome.com.