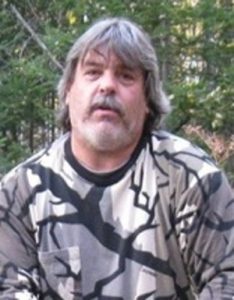 Edward C. Davis Sr., age 58, of Crystal Falls, MI, passed away on Tuesday, October 19, 2021, at U.P. Health System-Marquette.
He was born on December 14, 1962, in Sturgis, the son of Ronald and Mary (Schrader) Davis. He graduated from Centerville High School with the class of 1981.
Ed married Lisa Brown on May 12, 1984, in Three Rivers. The couple celebrated their 37th wedding anniversary this year.
Ed was a loving husband, father, grandfather, son, and friend. He enjoyed cooking and baking cakes with Lisa. Ed, Lisa, and Linda, his favorite mother-in-law, owned and operated the Edge Restaurant in Crystal Falls and really enjoyed the people. He and Lisa also enjoyed going to auctions and yard sales together. Ed loved spending time with his family, especially his grandchildren, seeing them grow and being able to share some of his knowledge with them.
He was also a very good logger and worked hard at it. Ed always felt at home when he was in the outdoors, whether hunting or fishing. He was well known for his knowledge on bears and for the last 20 years, Ed has guided many first-time bear hunters successfully to their first bears. He was one of the best when it came to fishing. He might not have caught the limit every time, but he would catch the big ones.
Edward is survived by his wife, Lisa; sons, Nick Davis of Sturgis, Edward (Connie) Davis II of Iron Mountain, MI, Joshua Davis of Iron River, MI, and Miles (Rebecca) Davis of Crystal Falls, MI; daughters, Jenny (Aaron) Wallace of Indiana and Brittany Russell of Crystal Falls, MI; his parents; brothers, Randy (Rhonda) Davis of Kentucky, Mike (Deanna) Davis and Jim (Kandy) Davis, both of Iron River, MI; 20 grandchildren; mother-in-law, Linda Brown and Dan Wingeart; sister-in-law, Shelli (Rod) Davies; nieces, nephews, extended family, and friends.
Visitation will be held on Friday October 29, 2021, from 11:00am to 12:00pm at the Jacobs Funeral Home Inc. of Iron River. A memorial service will follow at 12pm with Rev. Mark Mattson to officiate.
Condolences may be expressed to the family of Edward C. Davis, Sr. online at www.jacobsfuneralhomeir.com
Funeral arrangements by the Jacobs Funeral Home of Iron River.