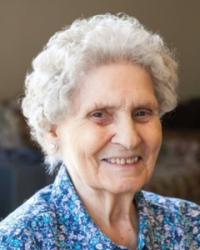 Grace Marie (Wright) Crum, age 97, of Byron Center, went to heaven on September 30, 2021 with joy and peace in her heart. She was born on April 25, 1924 to Daisy and Vern Wright. She grew up in Constantine, with five brothers and five sisters. There were many stories told over the years of the adventures of living in a big loving family.
She married Forest Crum August 1, 1943 in the flower garden at her home. He was the love of her life for 68 years before his death in 2012. Grace and Forest accepted the call of God to preach the Good News of Jesus to others in 1950. She brought love, kindness, and dignity to nine parsonages during the ministry years. Her quick wit and gentle nature, deep and confident faith was infectious and many are those who caught her spirit. Grace loved life and never had a bad word to say about anyone. She liked to garden, fish, sew, and quilt. Over her lifetime she canned or froze hundreds of vegetables, fruits, and soups. She loved reading and for several years served as Librarian at Custer High School and Scottville Public Library.
Those left to cherish her memory are her children Karen (Crum) Doubblestein (William), Mark Crum,
Michael Crum; sister, Julie (Wright) Teuscher of Arizona; 13 grandchildren; 23 great-grandchildren; seven great-great-grandchildren; and many nieces and nephews.
Funeral services will be held at 12 p.m. Saturday, November 6, 2021 at Byron Center United Methodist Church, 2490 Prescott St. SW Byron Center, MI 49315, with visitation from 11:00 to 11:45 a.m. prior to the service. Donations in Grace's memory may be made to Asbury Theological Seminary, 204 N. Lexington Ave., Wilmore, Kentucky 40390 or St. Paul United Methodist Church, 3212 W. Kinney Rd., Ludington, MI 49431. The family welcomes memories and messages in their guest book online at www.cookcaresbyron.com.