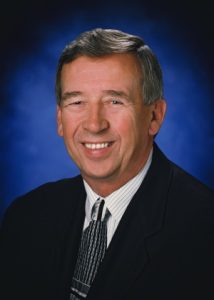 Merrill H. "Gus" Armstrong, of Port St. Lucie, FL, died on Friday, October 22, 2021 surrounded by his loving family at his northern Michigan home.
Gus lost a battle to cancer, but won so many endearing friendships throughout the world, with his warm, caring spirit.
Gus attended Western Michigan University and later graduated from Alma College with his bachelors in business administration. He pitched on both college baseball teams. On a weekend return home to Three Rivers, he met the love of his life, Barbara Grover, who became his wife in 1956. Barbara was beautiful, engaging and full of life.
Gus and Barbara raised three children and traveled the world making friends everywhere they went. Christmas was always a special time for Barb and Gus – teaching their children the importance of faith and sharing their blessings with family and friends.
After losing Barbara to cancer, Gus met Sharon Smith of Leawood, Kansas and had a second chance at love, marrying Sharon in 2001. Sharon and Gus enjoyed retirement together in Florida, Michigan, Alaska and Hawaii.
Family remained a priority for Gus – always assuring there were special moments to be together. He encouraged his family to prioritize sharing quality time with one another. His simple request of his grandsons was to enjoy life, and to love and respect one another.
Gus hosted annual fishing trips with friends and family at Rainy Lake in Minnesota and Yes Bay in Alaska. All day fishing concluded with enjoying the day's catch and hearty, competitive card games late into the night.
Gus joined Armstrong Machine Works of Three Rivers in 1956 – the industrial steam equipment company his grandfather founded in 1900. Not content with the company's stellar reputation as a Midwest manufacturer, Gus became President and led its path to national and international prominence. He brought Armstrong to Europe in 1969, building a manufacturing facility for industrial humidification in Liege, Belgium.
Gus renamed the company Armstrong International, Inc. to reflect its global presence and supported 4th generation family members in their broader entrance to Asia in the early nineties, where today the company has operations in China, India, Korea and a joint venture in Japan.
His goal – "not to be the biggest, but to be the best" remains a hallmark of the company's culture which includes treating employees and company representatives like family. Generations of families around the world work for the company, now in its 5th generation of family leadership. A global network of independent sales representatives share a unique bond with the company – one of Gus' proudest accomplishments.
Gus approached life with a trusting spirit, always seeing the good in others and encouraging his family to approach others with empathy. If he discovered someone in need, he would quietly help, keeping tabs on their progress, and delighting when their circumstance improved. Loyalty was a quality he admired and practiced. His bold enthusiasm helped those around him achieve their fullest potential – he was a natural and gifted leader.
Gus is survived by wife Sharon, daughter Tamara Bloss (Doug), son Patrick (Nicole) and daughter in law Yvonne Armstrong. Eight grandsons – Chad, Kurt (Mandy) Armstrong – Ryan (Jamie), Matthew (Melissa), Troy (Katie) Bloss – Brian, Brandon and Cole Armstrong. Sisters Mary Overholt and Barbara Kravchenko.
Gus was predeceased by his wife Barbara, son David, and his parents, Lawrence and Donis Armstrong.
Visitation will be held at:
Hohner Funeral Home
(269) 279-5282
1004 Arnold Street
Three Rivers, MI 49093
Wednesday, November 17 – 3:00 p.m. to 7:00 p.m.
Thursday, November 18 – 3:00 p.m. to 7:00 p.m.
A church service will be held at 11:00 a.m. Friday, November 19 (masks required).
Amidst global travel restrictions and domestic COVID concerns, information about how to view the memorial service virtually will be posted closer to the date under "Service Details" at www.hohnerfh.com/merrill-h-gus-armstrong.
First Presbyterian Church
320 N. Main Street
Three Rivers, MI 49093
In lieu of flowers, the family suggests donations to the Armstrong Family Foundation.
The Armstrong Foundation
Attention: Joanne Carrara
1002 SE Monterey Commons Blvd.
Stuart, FL 34996
OR
Leukemia and Lymphoma Society
https://pages.lls.org/tnt/pb/tnthld23/kbutler