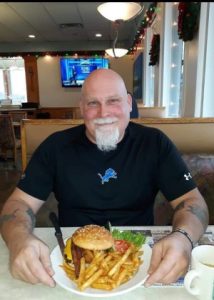 Jerry D. Weinberg, age 52, of Colon, passed away unexpectedly at his home on Wednesday, October 20, 2021.
Jerry was born on July 20, 1969 in South Bend, a son to Louis and Alice (Clark) Weinberg.
Jerry graduated from Centreville High School with the class of 1987. He lived in Centreville until 2000 when he moved to Colon. Jerry worked for Tube Manufacturers in Burr Oak.
Jerry loved his kids, his family and his pets, he loved watching Michigan Sports and having a beer. He enjoyed playing horse shoes and having the radio on classic rock. He will be missed so much by his family and a lot of people in the community, until we see you again.
Jerry is survived by his children: Kyla Weinberg of Kendallville, Jacqueline Weinberg of Kendallville, Louis Weinberg of Colon, Johnny Weinberg of Colon, Lanae Schwartz of Colon, and Regenea Gale of Colon, mother Alice Loudenslager of Burr Oak, siblings: Gary (Colleen) Clark of Centreville, and Lori (Larry) Sheteron of Burr Oak, step siblings: Vicki (Stan) Yoder of Sturgis, Pam (Jeff) Thaxton of Colon, and Mike (Carole) Loudenslager of Colon, grandchildren: Jaxson, Jett, Veda, Adon, and Jonesy, and several nieces and nephews.
Jerry was preceded in death by his father Louis Weinberg, brother Larry Weinberg, and step father Lloyd Loudenslager.
Following in the families wishes, cremation has taken place. A memorial service will be held on November 6, 2021 at the New Beginnings church 63022 M-66, Sturgis, MI 49091. At 1:00 PM with Pastor Randy Evans Officiating. There will be a visiting hour starting at 12 noon. In lieu of flowers memorials can be directed to the Weinberg family for help with funeral expenses.
Arrangements by Schipper Funeral Home.