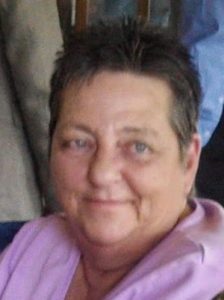 Marcie Leigh (Forseman) Weatherwax, age 69, passed away on Thursday, October 7, 2021 at ProMedica (formerly Heartland Health Care), in Three Rivers.
She was born on April 21, 1952 to Burleigh and Jacqueline (Niendorf) Forseman, in Lansing. She lived all her life in Three Rivers, graduating from Three Rivers High School with the class of 1970.
Marcie was employed in a variety of jobs in her life, serving area residents and making many friends in establishments such as the A & J Café, the Windmill Restaurant, Newberry's lunch counter, the Time Out, the TR Elks Club, Dunkin Donuts, the Best Western TR Inn, the TR Moose and, most recently, several years at the Twin County Probation Center in Three Rivers.
She was a bit of a gambler, making many trips to the Casinos with friends over the years, especially enjoying her outings with good friend the late Sara Miles.
Marcie "Mamaw" dearly loved her children, family and friends. She very much enjoyed fun-filled, never-a-dull-moment family gatherings and sitting around the bonfires on adventurous, food-themed camping trips and at many 'Camp Skaggs' cook-outs.
Surviving are her children: Daniel (Dorothy Jean Drake) Forseman, Timothy (Tiffany Carlisle) Weatherwax, Lynette Kipker, John (Yuki) Weatherwax, Jr., Michele (Denny Kirkpatrick) Gick, Heather (Mark) Carlson, Megan Dunson, Lisa Wicken, Amanda Gabbard; Siblings: Debra (Skip) Abel, Michael (Barb) Forseman, Patrick (Julie) Forseman; Grandchildren: Dominic, Skylar, MicKenzie, KayLynn, Destinee, Dylan, Ethan, Cierra, Austin, Justin, Kenneth, Jennifer, Anthony, Jacob, Mykala, Lillian, Alaina, Sarah, Avery, Peyton, Breana and Destiny; Great-grandchildren: Sunalin, Orion Luna, Quh'Zayveon, Qa'Zareo and Noah, and many beloved nieces, nephews, cousins and friends.
A very special mention to Cherie Skaggs who devoted many years as Marcie's confidant, advocate and dear friend.
She was preceded in death by her parents, step-dad Howard Sayer and the love of her life, Wilgus "Red" Gabbard.
A private, family graveside service at Moorepark Cemetery will be held at a later date.
Arrangements by Hohner Funeral Home.