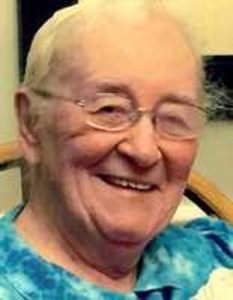 Mary J. Keely, age 94, of Sturgis, passed away Friday, October 15, 2021 at her home. She was born May 17, 1927 in Haven, Kansas, a daughter of Jacob and Ida Borntrager. Mary earned her teaching degree from Goshen College. On August 30, 1959 she married Martin D. Keely in Goshen. He preceded her in death January 1990.
Mary was a homemaker, caring for her family. She also worked as a custodian with her husband at Glen Oaks Community College. She was head cook at Camp Chippewa for 24 years. Mary was known for her delicious donuts, angel food cake, cinnamon rolls, pies, noodles, and breads. She loved quilting, sewing, and going to Florida in the winters. Mary enjoyed baking for the bazaar for South Colon Church, Thurston Woods and Lake Area Christian School. Mary also did the Jail Ministry banquet for St. Joseph County, Centreville, and the Focus Camp banquet in Minnesota for many years.
Surviving Mary are her 2 sons Loren Keely, Sturgis, Larry Keely, Battle Creek, daughter Carol (Robert) O'Brien, Sturgis, daughter-in-law Ony Keely, Sturgis; grandchildren Samantha (Travis) Milburn, Michael (Mary) Keely, Ericka (James) Feister, Rebecca (Nate) Barrett, Rasika Keely, Gabe (Emma) Keely, Courtney O'Brien, and Tyler O'Brien; great grandchildren Emerlynn Pelmear, and Jax Feister. Also surviving are her sisters Sally Hochstetler, Blackduck, MN, Susie Schrock, Gladys, VA, brother Marvin (Joyce) Borntrager, Goshen, sister-in-law Frieda Borntrager, Goshen, and Betty (Dick) Kendall, Bremen, IN, and many nieces and nephews.
Mary was preceded in death by her parents Jacob & Ida Borntrager, husband Martin Keely, son Lee Mike Keely, in-laws George and Bernadette Keely, brother and sister-in-law Alvin & Leona Borntrager, brothers Orvin Borntrager, Ervin Borntrager, brother-in-laws Mahlon Nisly, Amos Schrock, Larry Keely, Byron Keely, Tim Keely, and sister-in-law Melody Keely.
Relatives and friends will be received Friday from 3 to 8 PM at Calvary Chapel, 66969 N. Centreville Rd., Sturgis with Bishop Dana Stauffer and Pastor Tom Miller, officiating. Religious services will be held at the church Saturday at 11:00 am. Interment will be in Locust Grove Mennonite Cemetery. Memorials may be made to Lake Area Christian School. Condolences may be eft for the family at www.schipperfuneralhome.com.