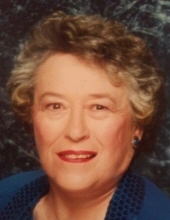 Mary Lou Kolassa, age 94, of Sturgis, passed away early Friday morning, October 15, 2021 at Birch Meadows Adult Foster Care in Three Rivers.
She was born January 8, 1927 in Three Rivers, daughter of the late Leo and Lillian (Gilbert) Jacox.
Mrs. Kolassa resided her whole life in the Sturgis and Three Rivers area. She was a graduate of Three Rivers High School and furthered her education becoming a Registered Nurse.
On June 26, 1948 she married Eugene M. "Mike" Kolassa in Sturgis. He preceded her in death May 13, 1996.
At the age of 80, Mary Lou retired from the doctor's office of Drs. Smith and Bradley in Colon following many years of dedicated service as a Registered Nurse.
She was an active member of the Sturgis Historical Society and the Sturgis Woman's Club. She and Mike had a passion for travel and had traveled throughout the world. She enjoyed reading and loved time spent with her family, children and grandchildren.
She is survived by two daughters: Gail Walters of Three Rivers and Janet (David) Yost of Medford, Oregon; two sons: Dr. E.M. Kolassa, Jr. of Memphis, Tennessee and James (Tina) Kolassa of Atlanta, Georgia; nine grandchildren: Stephen Walters, Eric Walters, Alex Kolassa, Megan Fortune, Kassia McCaughey, Michael Yost, Jeffrey Yost, Logan Kolassa and Nick Kolassa; sister: Ada Jacox of Ann Arbor; brother: George Jacox of Baltimore, Maryland and several nieces and nephews.
She was preceded in death by her parents, husband, daughter-in-law: Mollianne Kolassa, sister: Marjorie "Peggy" Krueger and brothers: Edwin Jacox and Gilbert Jacox
The family will receive friends from 6:00 to 8:00 P.M. Tuesday at the Hackman Chapel of Hackman Family Funeral Homes of Sturgis where funeral services celebrating the life of Mary Lou Kolassa will begin at 1:00 P.M. Wednesday. Private interment will take place at Oak Lawn Cemetery in Sturgis.
The family suggests those wishing to make a memorial donation in Mrs. Kolassa's memory consider the Sturgis Historical Society, 101 S. Jefferson St., Sturgis, MI 49091 or the Sturgis Salvation Army, 105 N. Fourth St., Sturgis, MI 49091.
The obituary is also at www.hackmanfamilyfuneralhomes.com where we encourage relatives and friends to share memories and leave condolences for the family.