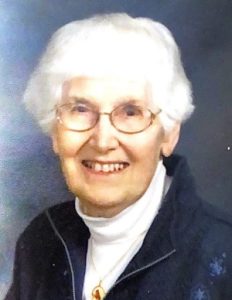 Pearl Alice Horton, age 96, of Three Rivers, passed away Tuesday, October 19, 2021 at Bowman Place Assisted Living Community.
She was born December 5, 1924 in Ontario, Canada, the daughter of Joseph Henry and Mary Alice (Lucas) Christian.
On September 6, 1957, she married David A. Horton in Bay City.
Pearl's favorite hobbies included birding and gardening. She was a member of the First Presbyterian Church Three Rivers/Centreville and had been a member of the Three Rivers Woman's Club.
Remaining to cherish her memory are her daughters, Carol Horton of Cassopolis and Mary Jones of Watts, OK; grandchildren, Jamie and Kelsey Barrett & Christopher and Calvin Cook.
She was preceded in death by her husband, David, in 1983.
No services are planned; interment will be in the Midland Memorial Gardens at a later date.
Donations in Pearl's memory may be directed to Midland Chippewa Nature Center or the American Cancer Society. Envelopes are available at Hohner Funeral Home.