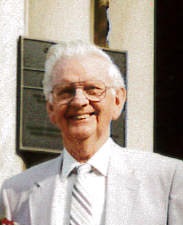 Rev. Erwin A. Self, age 96, of Vicksburg, was born into eternal life on Tuesday, Oct. 5, 2021. He was born into a family circle on Oct. 1, 1925 the son of Ervin Harrison Self and Louella (Guest) Self. He graduated from Holiness Bible Seminary before joining the U.S. Navy where he served from 1943 to 46. He was married to Leona Bigger on Aug. 25, 1945 in Flint. She died on Feb. 23, 2008. Erwin attended Greenville College in Kentucky and was ordained on August 21, 1958. He was a Pastor-Builder for churches in Michigan and Indiana, including West Branch, Perry, Grand Ledge, St. Johns, Midland, Sturgis, Muskegon, Lansing, and Bluffton. He also was a missionary in the Dominican Republic and Argentina. He served with the General Church Retirement Center in Casa Robles, CA and was Pastor and Chaplain at the Florida Holiness Camp.
Rev. Self was married to Gladys (Wing) Hurt on Sept. 13, 2008 at the Chapman Memorial Church of the Nazarene. She survives along with four sons, Edwin (Charlotte) Self of Rinchon, GA, Elwood (Carol) Self of Oro Valley, AZ, Eldon (Diane) Self of Grand Haven, and Elliot (Melanie) Self of Kent, WA; four step-children, Karen (Steve) Willoughby of South Bend, Kenneth Hurt of Bella Vista, AR, Keith (Karla) Hurt of Portage, and Kevin (Tammi) Hurt of Centerton, AR; 19 grandchildren; 25 great-grandchildren; and 1 great-great-grandchild; and a sister, Norma Crapo. He was preceded in death by his parents; his first wife, Leona, and a sister, Dortha Willis.
The family will receive friends form 3 to 6 pm Sunday, October 10th at the Sturgis Church of the Nazarene, 70031 S. Lakeview, Sturgis, 49091. Funeral services will be 11 am Monday, Oct. 11th at the church with Pastor John Shoup officiating. Military interment will be 10 am Tuesday Oct. 12th at Ft. Custer National Cemetery in Augusta.
It is suggested that memorial contributions be directed to Nazarene Compassionate Ministries at www.ncm.org . Arrangements were by the Eickhoff Funeral Home of Mendon. Memories and condolences may be shared at www.eickhofffuneralhome.com