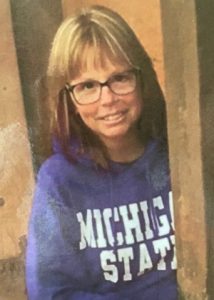 Tammy J. Carpenter-Smith, age 57, of Three Rivers, passed away on Friday, October 8, 2021, after a long battle with cancer.
Tammy was born in Sturgis on February 21, 1964 a daughter to St. Claire "Butch" and Gloria (Rinehart) Carpenter.
Tammy attended Colon High School and graduated with the class of 1982. She also attended Bronson School of Nursing.
Tammy worked at XL Machine in Mendon and was a waitress at Bills Steak House in Bronson.
Tammy is survived by her children: Michael (Jessie) Stewart of Three Rivers, Chelsea (Justin) Crespi of Sturgis, and Ian Smith of Sturgis, grandchildren: Kinsley, Jeremisac, and Whitney, parents: St. Claire "Butch" and Gloria Carpenter of Bluffton, Indiana, and a sister Kimberly (Chip) Mann of Bluffton, Indiana.
Tammy was preceded in death by her grandparents and uncle Terry Carpenter.
The Carpenter-Smith families will receive friends and relatives on Tuesday, October 12, 2021 from 2 to 4 PM at the Schipper Funeral Home. A celebration of life will take place at 4 PM with Rev. David J. Farrell officiating. Cremation will follow and a private interment of ashes will take place at a later date in Lakeside Cemetery. The family asks in lieu of flowers memorial donations be made to the National Breast Cancer Foundation or the Sturgis Athletic Boosters. Online condolences can be left for the family at Schipperfuneralhome.com.