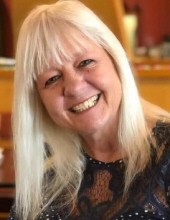 Teresa A. Weitz, age 60, of Sturgis, passed away Saturday morning, October 23, 2021 at the home of her daughter, Telesha, in Sturgis.
She was born December 14, 1960 in Sturgis, daughter of the late Leo Arthur "Bud" and Linda (Wolfe) Krontz.
Teresa resided most of her life in the Sturgis and Burr Oak area and was a graduate of Burr Oak High School with the class of 1979.
She had been employed by Midwest Tool & Cutlery and Mike's Pizza and Sub both in Sturgis and at one time was a day care and foster care provider.
She had a love for her Lord and Savior Jesus Christ and was an active member of the Christian Fellowship Center in Sturgis.
Teresa enjoyed art and poetry, and was a strong supporter of Donald Trump. Those who knew her will forever miss hearing her say "Thank You Jesus!"
She is survived by her daughter: Telesha (Brian) Rice of Sturgis; granddaughters: Kaylee and Sophie; step-brothers: Lonnie Mieras and Michael Mieras both of Sturgis and Douglas Mieras of Fort Wayne; three of her best friends: Debra Adams, Diane Markus-VanTassel and Alison Harris; her beloved dog: Seger and many aunts, uncles and cousins.
She was preceded in death by her parents; step-father: Dennis Mieras; sister: Tammie Marie Krontz; brother: Rick Krontz; cousin: Kenny Jackson; step-sister: Linda Lou Mieras and step-brother: Danny Lee Mieras.
The family will receive friends from 2:00 to 4:00 and 6:00 to 8:00 P.M. Wednesday at the Christian Fellowship Center, 201 North St. in Sturgis where funeral services celebrating the life of Teresa A. Weitz will be held at 1:00 P.M. Thursday. In accordance with her wishes cremation will follow the service.
The Hackman Family Funeral Homes of Sturgis is entrusted with the arrangements.
In lieu of flowers memorial donations would be appreciated to Three Rivers Health Hospice, 711 S. Health Parkway, Three Rivers, MI 49093 or Hackman Family Funeral Homes, P.O. Box 9, Sturgis, MI 49091.
The obituary is also at www.hackmanfamilyfuneralhomes.com where we encourage relatives and friends to share memories and leave condolences for the family.