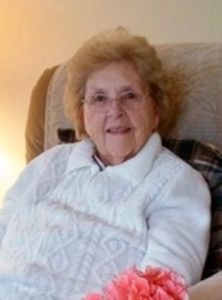 Thelma Aileen Wilson, age 94, of Sturgis, passed away peacefully Friday, October 1, 2021 surrounded by her loving daughters.
Thelma was born October 27, 1926 in LaGrange County, Indiana. She was the sixth of ten children born to the late Fay W. and Kathryn A. (Wright) Hart Sr. She attended schools in Brighton and Howe where she participated in cheerleading, choir, and met the love of her life, Wayne Wilson. She graduated with the Class of 1945.
On January 6, 1946 Thelma and Wayne married in Howe, Indiana. The couple celebrated 73 years together as Wayne preceded Thelma in death on November 2, 2019. After Wayne and Thelma moved to Sturgis, Thelma worked at local factories including Transogram, Harvey Paper Products, and Kirsch Company. Thelma retired in 1985. Wayne and Thelma built their own home in Sturgis in 1956 where they lived together for 65 years and raised four children.
After retirement, Wayne and Thelma bought a home in Ellenton, FL and wintered there for 30 years, providing many life long memories for their children, grandchildren, and great-grandchildren. They had many wonderful friends and enjoyed Happy Hour on the Porch and activities at the clubhouse.
Thelma enjoyed birdwatching, sewing, flower gardening, home decorating, oil painting and spending time with her family.
Surviving are 3 daughters: Pamela (Bob) Springer, Jane (Lloyd) Schmaltz, and Michelle (Timothy) VanWormer; 1 daughter-in-law: Patricia Wilson; 11 grandchildren; 7 great-grandchildren and one more on the way.
She was preceded in death by her husband, one son: Dennis Wilson, her parents, and six siblings.
The family would like to extend a special thank you to Thelma's personal care givers who shared their love with the family over the course of Thelma's failing health.
The family will receive friends and relatives on Saturday, October 9, 2021 from 11:00am to 1:00pm with services at 1:00pm at Rosenburg Chapel of Hackman Family Funeral Homes 807 E Chicago Rd in Sturgis, MI. Interment of ashes at Oaklawn Cemetery to follow.
The family suggests memorial donations be directed to St. Joseph County Commission on Aging, 1200 W Broadway St, Three Rivers, MI 49093 or St. John's Episcopal Church, 110 S Clay St, Sturgis, MI 49091.