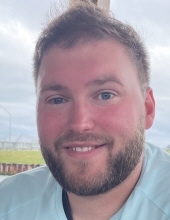 Tyler Dean Belote (Cooper), age 28, of Sturgis, passed away Sunday morning, October 3, 2021 at Bronson Methodist Hospital in Kalamazoo.
He was born August 15, 1993 in Elkhart, son of Robert A. and Christina (Cooper) Belote.
Tyler resided most of his life in Sturgis where he was a member of the Sturgis High School Class of 2012. He had also lived in White Pigeon where he attended White Pigeon Elementary School and Middlebury, where he was a student at Northridge Middle School.
He was employed by Zurcher Tire in Sturgis.
Tyler was currently enrolled and on the honor roll at Owens Community College in Toledo.
Tyler could probably be classified as a sports nut. He enjoyed the game of golf and participated in adult in softball leagues. Many weekends he could be found watching football on the television and he loved his dog Brees (named after Drew Brees). Many may be surprised to know he was a gifted singer.
He is survived by his parents: Robert and Christina Belote of Sturgis; his girlfriend: Mickenzie Reed of Lima, Ohio; grandparents: Richard and Sally Cooper of Middlebury; uncles: Steven E. Belote and John W. (Teresa) Belote both of Sturgis and Gary L. (Sally) Belote of Colon, Scott (Tammy) Cooper of Goshen, Brent (Laura) Cooper of Middlebury; aunt: Laura Ross of Middlebury, and several cousins.
He was preceded in death by his grandparents: Robert E. and Josephine H. Belote.
The family will receive friends from 2:00 to 4:00 and 6:00 to 8:00 P.M. Thursday at the Hackman Chapel of Hackman Family Funeral Homes, 114 S. Nottawa St. in Sturgis. Funeral services celebrating the life of Tyler Dean Belote will be held at 3:00 P.M. Friday at the Radiant Life Church, 907 N. Nottawa St. in Sturgis. In accordance with his wishes cremation will follow the services.
The family suggests in lieu of flowers memorial donation would be appreciated to the family c/o: Robert Belote, 506 Mechanic St., Sturgis, MI 49091 to help with expenses.
The obituary is also at www.hackmanfamilyfuneralhomes.com where we encourage relatives and friends to share memories and leave condolences for the family.