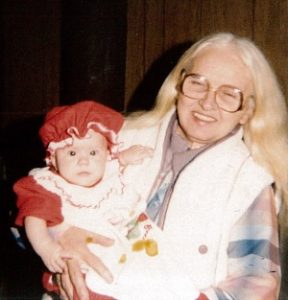 Virginia Ruth Coleman, age 90, of Constantine, died Saturday, October 2, 2021 at her home. She was born in Vicksburg on April 21, 1931 to Theodore and Amanda (Marshall) Renner. She was married to Willis F Johnson on March 27, 1948, and they were later divorced. On October 5, 1989, Virginia was married to Tex A. Coleman. Virginia enjoyed fishing, playing pool, and throwing darts. She loved dancing, her dogs, and most importantly, she loved her family.
Virginia is survived by two sons; Victor (Nancy) Johnson of Three Rivers, and Ivan Johnson of Constantine, three daughters; Carol Holdren of Sturgis, Genevie (William) Benson of Orland, IN, and Louise (Rob) Hunnaman of Three Rivers; 17 grandchildren; 19 great grandchildren; 12 great-great-grandchildren; two sisters; Norma and Patricia; and many nieces and nephews.
She was preceded in death by four sons; Harry Johnson, Wayne Johnson, Luke Johnson, and Randy Johnson; one daughter, Lou Ann Benson; two brothers; Wesley Renner and Theodore Renner; four sisters; Myrtle, Amanda, Donna, and Betty; and granddaughter, Rebecca Godfrey.
In keeping with her wishes, cremation has been conducted. There will be a graveside service held on October 9, 2021 at Mendon Cemetery at 1:00 PM. It is suggested that memorial donations be directed to a charity of the donor's choice. Memories and condolences may be expressed to the family at eickhofffuneralhome.com