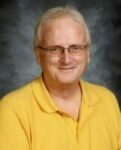 Timothy Earle Roush, age 63, of Plainwell, went to his eternal home on Monday, Nov. 1, 2021.
Tim was born Nov. 15, 1957 in Three Rivers, the son of Nancy (Prowse) and Norman H. Roush, both of whom preceded him in death. Tim grew up in Three Rivers and graduated from Three Rivers High School, where he played varsity basketball and tennis, in 1976. He attended Kellogg Community College in Battle Creek and then Nazareth College in Kalamazoo, earning a bachelor's degree in criminal justice.
After a short stint as a police officer, Tim returned to Western Michigan University to study education and find his true passion—teaching. He taught at Starr Elementary School in Plainwell for 34 years, starting in 1988, earning numerous teaching awards and the love of generations of students. His favorite subject was science, especially space science. Tim's students built and flew model rockets to learn the basics of physics, aerodynamics, engineering, and spaceflight, and were always taught that their future was among the stars. He led several classes of students to NASA's educational programs at Kennedy Space Center in Florida, and attended NASA's Space Camp in Huntsville, Ala. himself as an adult student with other science teachers from around the country.
In 2018, Tim was recognized as having the Fox 17 – Grand Rapids Community College "Classroom of the Week." His comment about teaching in the on-air segment: "It's my life, to be honest with you." And his students told the Fox 17 reporter: "He's not like most teachers. He's really special… he's just the best teacher ever."
Tim is survived by his wife of 39 years, Pamela (Piwnicki), whom he met at Nazareth College; two sons, David (Lynn) Roush and Peter (Terra) Roush; a grandson, William; a brother, Matthew (Susan) Roush; and brothers-in-law, sisters-in-law, nieces and nephews, cousins, and many dear friends and students who made it a point to visit him after they graduated.
In addition to his strong commitments to teaching and family, Tim was a longtime community volunteer, an active member of Plainwell First United Methodist Church, where he served as an usher for 22 years, and a Boy Scout leader from 1998 to 2011. He was also known for impressive Christmas displays at his historic 1869 Italianate home. Residents will remember him putting up an elaborate Christmas display for Halloween and dressing up as "Tigger" from the Winnie-the-Pooh books to hand out candy to thousands of children. He also served on the board of the Michigan Space and Science Center, worked weekends and summers doing many home improvement projects, and was a devoted University of Michigan and Western Michigan University sports fan. He attended every WMU home football game for more than 30 years, and the tailgates Tim and Pam offered to friends and family are legendary. He also loved reading, especially science and space books, as well as trips to South Haven and Holland on Lake Michigan.
Those attending the visitation or service are asked to please wear a mask.
There will be visitation from 1 to 8 PM, Sunday, Nov. 7, 2021, at the Winkel Funeral Home, 207 E. Allegan St., Otsego.
Funeral services for Tim will be held at 11:00 A.M., Monday, Nov. 8, 2021, at Plainwell First United Methodist Church, 200 Park St., Plainwell.
Interment will follow at Riverside Cemetery in Three Rivers.
The Plainwell Community Schools will also hold a memorial event for Tim. The date has not yet been determined.
Memorial contributions may be directed to a scholarship fund being established in Tim's name through the Plainwell Community Schools. Contact the school district's administration office for more information at (269) 685-5823.
Messages of condolence may be posted at www.WinkelFuneralHome.com.