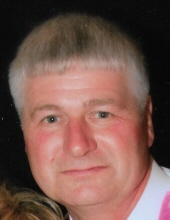 Jerry D. Waltke, age 60, of Burr Oak, passed away unexpectedly Friday evening, November 5, 2021 in Burr Oak Township.
He was born January 25, 1961 in Sturgis, son of Thomas Eugene and Helen (Wondergem) Waltke.
Jerry resided in the Sturgis, Colon and Burr Oak area his whole life and was a graduate of Sturgis High School with the class of 1980.
On September 6, 1986 he married Penny Miller in Sturgis.
Jerry owned and operated with Dean Maystead, G&K Gas in Sturgis for many years until the recent sale of the business. He also had worked as a truck driver for Michiana Corrugated in Sturgis and from 1990-1995. He and Penny owned and operated Midway Feed in Findlay. For many years he participated in horse racing.
He was a member of the Life Church in Centreville. Jerry seemed to always find time to give of his time to others. He was very active in 4-H serving as a 4-H leader for many years and was the Open Class Beef Superintendent. Jerry was currently serving as President of the St. Joseph County Grange Fair Board, an organization he was involved with for most of his life. He and Penny were active in the Colon Sports Booster Club where he was known as the "Popcorn King" at the concession stand. Jerry had many interests and involvements but what he truly loved was time spent with his family.
He is survived by his loving and dedicated wife of 35 years: Penny; one daughter: Erin (Kyle) Sherman of Howe, Indiana; one son: Ryan (his fiancée Ashley Ives) Waltke of Three Rivers; his grandchildren: Brynleigh, Easton and Kennedy Sherman; mother: Helen Waltke of Sturgis; two sisters: Beth Forbes and Valarie (Mark) Smith both of Sturgis; one brother: Thomas Waltke, Jr. of Leonidas and many nieces and nephews.
He was preceded in death by his father and brother: Michael Eugene Waltke.
The family will receive friends from 2:00 to 7:00 P.M. Wednesday at the Rosenberg Chapel of Hackman Family Funeral Homes in Sturgis and from 10:00 to 11:00 A.M. Thursday at the Grace Christian Fellowship Church, 300 Timothy St. in Sturgis where funeral services celebrating the life of Jerry Waltke will begin at 11:00 A.M. Thursday. The Rev. Clint Zehr of the Life Church will officiate. A graveside committal will follow the service at the Burr Oak Cemetery in Burr Oak.
The family suggests those wishing to make a memorial donation in Jerry's memory consider the Burr Oak 4-H Club, 67433 County Farm Rd., Burr Oak, MI 49030.
The obituary is also at www.hackmanfamilyfuneralhomes.com where we encourage relatives and d friends to share memories and leave condolences for the family.