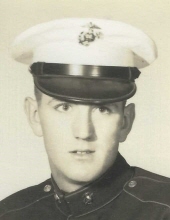 Dale G. Summey, age 81, of Sturgis, passed away Friday evening, November 12, 2021 at the Bronson Battle Creek Hospital.
Dale was born July 20, 1940 in LaGrange, son of Marjorie (Marks) and Clinton Summey. Dale resided in Sturgis since 1966. On May 27, 1961 he married Wilma Elaine Wansitler at the Howe Presbyterian Church. Dale served at Camp Pendelton, California, for three years in the United States Marine Corps. He took great pride in being a Marine, inspiring similar patriotic devotion in his grandchildren. In 1996, Dale retired from Ross Laboratories in Sturgis following 32 years of dedicated employment. He worked at Motor Wheel in LaGrange for four years prior to Ross Laboratories.
Dale was a member of the First Baptist Church. He and Wilma loved to travel; a favorite vacation of theirs spent in Oahu, Hawaii for their 50th wedding anniversary, visiting Pearl Harbor and driving around the island with friends, Chuck and Cathy Lytle. Dale loved surrounding himself with friends, taking many casino trips with Skip and Mary Littman, and having Friday Burger King lunches with Anna Kime and Dick Spackman. He had a love of sports. Dale participated for many years in Fast Pitch Softball leagues as a pitcher. He had a passion for Stock Car racing, driving in the modified division for several years. He raced at many area speedways including Mottville, New Paris, and Butler. Dale was a true fan of the Sturgis Trojans, attending many sporting events long after his daughters had graduated. Some of his favorite events to attend were those of his children and grandchildren. His daughters and grandchildren will forever remember the countless track meets, soccer and football games, cheerleading competitions, and musical performances, he and Wilma actively attended, rain or shine. Dale loved time spent with his family. He will forever be remembered by his stories which always started with "When I was a kid…," "When I was in the service…," or something relating to one of his grandchildren.
He is survived by his wife: Wilma; three daughters: Sherri (Bob) Sousa of St. Petersburg, Florida, Terri (Terry) Dennis of Portage and Lisa (Butch) Parsons of Coldwater; five grandchildren: Adam (Molly) Blizzard, Alex (Kyndall) Miller, Courtney McLive, Morgan (Kegan) Glover and Nathan Parsons; three great grandchildren: Sterling and Kylie Miller and Hannah Glover; four step-granddaughters; eight step-great grandchildren; two sisters: Barbara (Nick) Bommarito of Port Charlotte, Florida and Lorraine Emch of Decatur, Illinois; sister-in-law: and Beverly Grobis of LaGrange.
He was preceded in death by his parents and step-granddaughter.
The family would like to thank Dr. Christopher Rogers, RN Amy, and Dr. Joel Reinoehl of Bronson Advanced Cardiology, and Dr. Alphonse DeLucia of Bronson Cardiothoracic Surgery Specialists. Also thanking Three Rivers Health Rehab Staff. An immense thank you for the staff of Bronson Hospital of Battle Creek for their exceptional care and professionalism shown towards our family.
May his memory be a blessing. Proverbs 10:7
The family will receive friends from 4:00 to 7:00 P.M. Wednesday at the Rosenberg Chapel of Hackman Family Funeral Homes, 807 E. Chicago Rd. in Sturgis. Funeral services celebrating the life of Dale G. Summey will be held at 1:00 P.M. Thursday at the first Baptist Church in Sturgis. The Rev. Matt Taylor will officiate. A graveside committal will follow the service at the Riverside Cemetery in Howe, Indiana. Full military honors will be conferred by Captain John J. Kelley Post #1355 VFW and the U.S. Marine Corp Honor Guard.
The family suggests those wishing to make a memorial donation in Mr. Summey's memory consider the First Baptist Church, 1050 E. Fawn River Rd., Sturgis, MI 49091.
The obituary is also at www.hackmanfamilyfuneralhomes.com where we encourage relatives and friends to share memories and leave condolences for the family.