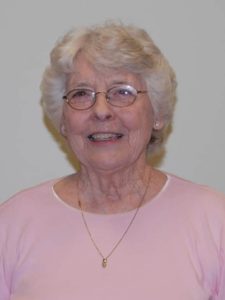 Doris Jean Curtis, age 82, of Marcellus, was called home to heaven by the angels on Tuesday, November 9, 2021 at Ascension Borgess Hospital.
She was born October 29, 1939 in Marcellus to Willie and Lulla (Condor) Cripps, and graduated from Marcellus High School with the class of 1957.
Doris married Willie Curtis on October 29, 1958.
She loved to bake, pray for all in need, and take care of family and friends.
Doris was a pillar of the church at Edwards Corners Bible Church, where she participated in ladies' Bible study, sang in the choir, and taught Sunday School, Junior Church and nursery.
Remaining to cherish her memory are her sons, Don (Tammy) Curtis, Bill (the late Jenny) Curtis and Mike Brockway; daughters, Julie (Thomas) Bouma and Toni (Joe) Schiedel; grandchildren, Luke Curtis, Sally Jones, Trevor (Breanna) Bouma, Jarett Curtis, Addison Curtis, Skylar Makowski, Connor (Renee) Makowski, Brooklyn Schiedel, Alyssa Schiedel, Ashlynn Bachinski and Raquel (Eric) Reynolds; nine beloved great-grandchildren; brothers, Roger (Jane) Cripps, Richard (Becky) Cripps, Ronnie (Ilene) Cripps and the late Larry (Pat) Misel; sisters, Joyce (Marvin) Brockway and Annetta (Ed) Thornburgh; and many others in the community who lovingly referred to her as their own.
She was preceded in death by her husband; parents; and brother, Donald Cripps.
The family will receive friends on Friday, November 12, 2021 from 5:00 to 8:00 p.m. at Edwards Corners Bible Church, 51047 Chamberlain Road, Marcellus. A funeral service will be held Saturday, November 13, 2021 at 11:00 a.m. at Edwards Corners Bible Church with Pastor Josh Wiggins officiating. She will be laid to rest in Marcellus Cemetery.
Donations in Doris' memory may be directed to the Edwards Corners Bible Church Building Fund.