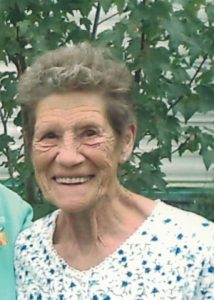 Evelyn L. Gordon, age 91, of Sherwood, passed away Wednesday, November 17, 2021 at the home of her daughter, Becky.
She was born March 7, 1930 in Battle Creek and had lived all of her life in the Sherwood area, graduating from Athens High School with the Class of 1947.
She married William James Gordon May 28, 1948 in Battle Creek and he preceded her in death.
Evelyn had worked for 12 years at Federal-Mogul Corporation in Mendon, 10 years for Bronson Plastics and several years at the River Lake Inn in Colon.
She enjoyed gardening, watching the birds and time spent with her family.
She is survived by three children; Becky (Michael) Meece of Colon, James (Laura) Gordon of Sherwood and Anita Thomason of Battle Creek, grandchildren; Brian (Laura) Gordon, Jamie Gordon, Branden Czajkowski, Morgan Czajkowski, Alexis (Ian) Czajkowski, Dustin (Ashley) Meece, Michael (Katelyn) Meece, Wyatt Meece, Caleb Meece, Amanda Barker, Anthony Neal and Matthew Neal, great grandchildren; Logan Gordon, Beckett Gordon, Harper Cole, Madisen Meece, Jaxsen Meece and Michael Meece III  and family friend David Purdy.
Besides her husband, William, she was preceded in death by daughter Melissa Gordon, great grandson Brady Gordon and nine brothers and sisters.
The family will receive relatives and friends on Saturday, November 20, 2021 from 10:00 to 11:00 A.M. at the Schipper Funeral Home LTD. in Colon.  Funeral services will be held at 11:00 A.M. from the funeral home with Rev. David J. Farrell officiating.  Burial will follow at Sherwood Cemetery.