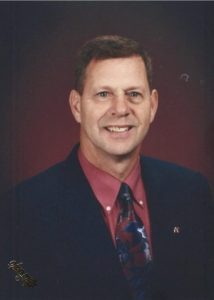 Gary G. Schrimer, age 72, of East Leroy, passed away Saturday, November 20, 2021 at Ascension Borgess Hospital.
Gary was born in Leeuwarden, Netherlands on December 16, 1948, a son of the late George and Sue (Mensondies) Schrimer.
In 1956 at the age of 8, Gary and his family immigrated to the United States from the Netherlands. Gary was Nationalized in 1962. They planted their roots in Battle Creek where Gary would graduate high school from Battle Creek Central with the class of 1967. Following graduation Gary attended Kellogg Community College for 2 years until 1969. Gary then transferred to Western Michigan University where he would earn a bachelor's degree in business in 1971.
On June 10, 1988 Gary married Nancy Sherrick-Brown at the Comstock Church of Christ.
Gary worked for Consumers Energy for 35 years until his retirement. Gary acted as co-minister at the Colon Church of Christ and had previously served at the Three Oaks Church of Christ for many years. Growing up Gary was a cub scout. That transitioned into becoming an Eagle Scout, something Gary was very proud of. Gary was an All-American Swimmer at Battle Creek Central with the class of 1967. Gary was also very involved in numerous Battle Creek city Softball leagues. Many of Gary and Nancy's favorite activities together were: Kayaking, Swimming, Biking, Walks, Hiking most especially Red Rock Canyon in Las Vegas. Their favorite places were St. Augustine, Florida, and trips to Lake Michigan.
Gary made many Mission Trips throughout his life. He first went to Kenya and Uganda in 1989. Gary and Nancy then went on Missions to Ocho Rios, Jamacia, Haus Edelweiss Heiligenkreuz, Austria, and two final trips alongside Casas Por Coristo to Juarez, Mexico, and the Dominican Republic. Gary and Nancy also made a Biblical Education Trip to the Holy Land.
Most of all Gary loved and served his lord Jesus Christ with all of his heart, soul, and mind. Gary always lived according to God's word and never compromised his faith in that. He loved all the people at Colon Church of Christ. They were like his family, young and old alike. Gary prayed for them daily. He will be truly missed by all.
Gary is survived by his wife Nancy Schrimer of East Leroy, 4 step children that he loved as his own: Timothy (Courtnay) Brown of Kentucky, Cheryl (Michael) Rosenbaum of East Leroy, Sasha Olinger of East Leroy, and Matthew (Molly) Brown of Nevada,  9 grandchildren that he adored: Britenay Brown, Lauren (Kevin) Wiggins, Noah Nyle, Lilyana Rosenbaum, Zachary Liby, Nik Olinger, Gaige Olinger, and Mia Brown, 3 precious great grandchildren: Landon Popplewell, Rayne and Kyrie Wiggins, special family friends: Shawn Olinger, and Dr. Troy Pascoe, 2 sisters: Stacia (Lowell Tuggle) Poole, and Tena (Kip) Rose, niece Kelly (Cory) Gibson, and great nieces: Breece and Trinley Gibson.
Gary was preceded in death by both of his parents.
The Schrimer family will receive friends and relatives from 10 AM to 11 AM on Saturday, December 4, 2021 at the Schipper Funeral Home in Colon. A funeral service celebrating Gary's life will follow beginning at 11 AM with minister Gordon Pippin officiating. In lieu of flowers, the family asks memorials be made to the Colon Church of Christ. Envelopes will be available at the funeral home.