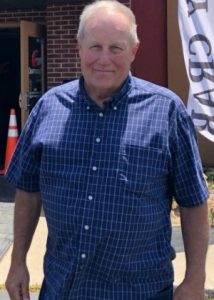 On Tuesday, November 16, 2021 Jack A. Stauffer, surrounded by his family, went home to be with his Lord and Savior.  Jesus paid for Jack's ticket on the "Glorybound Special".  Jack passed away at the Select Specialty Hospital in Battle Creek after a short illness.
He was born November 7, 1952 in Sturgis, a son to Roy Freeman "Sonny" and Barbara (Schwartz) Stauffer.
Jack Graduated from Centreville High School with the Class of 1970 and had made his home at his present address the past 45 years.
On June 18, 1976, he married Susan K. Simpson in Factoryville.
Jack owned and operated Magic City Heating and Cooling until he retired.
He was a founding member of the Bridges Community Church, was one of the original members of the Wasepi Bluegrass Gospel Singers and was very musically inclined.  He loved his grandchildren and time spent with his family.
He is survived by his wife Susan Stauffer of Centreville, four daughters; Stephanie (Raymond) Schwartz of Centreville, Amanda (Robert) Grove of Sturgis, Julie (David Kang) Stauffer of Columbia, MO, Autumn Stauffer of Centreville, grandchildren; Thomas, Joseph, Joshua, Philip, Stephen, Naomi, Elizabeth, Jonathan, Rachel and Rebecca, mother, Barbara Stauffer of Three Rivers,  two sisters; Gloria A. (Charles) Pomeroy of Centreville and Sherry (Lee) Carr of Nottawa, brother Russ (Melissa) Stauffer of Centreville and several nieces and nephews.
He was preceded in death by his father Roy Freeman "Sonny" Stauffer.
The family will receive relatives and friends on Monday, November 22, 2021 from 10:00 A.M. till 12:00 noon at Bridges Community Church, 27570 Marvin Road, Centreville, MI 49032.  Funeral services will then take place at 12:00 noon with Pastors Thomas Schwartz and Clint Zehr officiating.  Burial will follow at Nottawa Township Cemetery.  If desired memorials may be made to the Family.  Envelopes will be available at the church the day of the funeral or at the Schipper Funeral Home LTD in Colon.