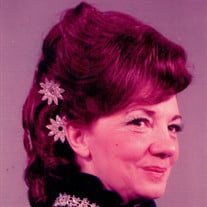 Janet Driskel, age 89, of Three Rivers, passed away Friday, November 12, 2021, at home.
She was born in Constantine on January 23, 1932, the daughter of Ernest Stratton and Mildred Snow.
Janet was an executive secretary at Armstrong for over 30 years.
Janet loved to crochet and bake, especially peanut butter fudge and seafoam.
In 1948, she was the Blue Gill frolic queen.
Janet is survived by her sisters; Donna and Diana; sons Karl (Becky Lynn) and Steven (Diane) Driskel; daughter; Candy Kaye Eastman; grandchildren; Joshua, Shelley, April, and James. She had many great grandchildren and great-great grandchildren. Many generations of love and nurturing.
Janet was preceded in death by Byron "Bud" Carlton Driskel.
The family will receive friends at Marcellus Cemetery at 12:00 pm, with services at 1:00 pm Tuesday, November 16, 2021. Burial at Marcellus Cemetery. Janet requested that instead of flowers, memorials be directed to the Three Rivers Public Library. Online condolences may be left at www.materralstonfuneralhome.com