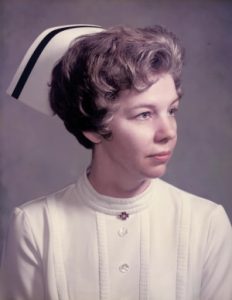 Vivian June (Earl) De Long, age 91, died on Wednesday, November 3, 2021 surrounded by the family who loved her.
June was born in Three Rivers on June 22, 1930. She was the oldest daughter born to Rex and Avis (Chamberlain) Earl.
June grew up in Three Rivers. She graduated from Three Rivers High School in 1948. Her further education included her Nursing Diploma from Foote School of Nursing in Jackson, a Bachelor's Degree from Siena Heights University in Adrian, and her Master's Degree from Western Michigan University in Kalamazoo. Education was always very important to June and her family.
June's professional work history includes nursing in many settings. She worked at Three Rivers Hospital; The Ophthalmologists Office of Drs. Marshall and Fintan in Kalamazoo; She was selected to attend a post graduate nursing course at Johns Hopkins Hospital in Baltimore, and became a Nursing Instructor and later the Director of Nursing at Glen Oaks Community College in Centreville. She retired form her position as Director of the Nursing program at Glen Oaks in 1995.
On January 1, 1954 June married Ralph De Long also of Three Rivers, in Kokomo, Indiana. The Reverend Richard Cooper formerly rector of Trinity Episcopal Church presided. She leaves to cherish her loving memory her youngest sister Terry (Earl) Simmons and her two daughters Michele (De Long) Holt and Lisa (De Long) Velez; three beloved grandchildren Michelle (Velez) Wadsworth, Rebekah (Holt) Eichhorn, and Matthew Velez as well as two great-grandchildren Ethan Wadsworth and Isabella Wadsworth.
June was a lifelong member of Trinity Episcopal Church serving in many capacities over the years. She attended Episcopal Cursillo, was a member of the Episcopal Church Women (ECW) The Daughters of the King and completed the four year course EFM, Education for Ministry based at The Beecken Center of The School of Theology at The University of the South in Sewanee, Tennessee.
Her interests included classical music as well as international travel. She traveled to The British Isles, Switzerland, and Japan. She was a voracious reader of books, family history as well as the history of Three Rivers.
June cultivated long, meaningful relationships with a vast network of friends, colleagues, former students and family.
June was preceded in death by her parents Rex and Avis (Chamberlain) Earl, her husband Ralph De Long, one older brother Roger Earl, two younger brothers Gerald Earl and Richard Earl, and two younger sisters Joyce (Earl) Cooley and Karen (Earl) Molby.
She is survived by many nieces, nephews, and cousins throughout the greater Southwest Michigan area.
May her soul, and all the souls of all the faithful departed thru the mercy of God, rest in peace and may light perpetual shine upon her now and forevermore, Amen.
The family will receive friends on Monday, November 8, 2021 from 10:00 a.m. at Trinity Episcopal Church, 321 N. Main St., Three Rivers, followed by funeral services at 11:00 a.m. at the church with Pastor James Smith officiating. Interment will be held in Riverside Cemetery following the service.
Memorial donations may be left to Trinity Episcopal Church (put "Daughters of the King" in the memo line) or the Glen Oaks Community College nursing program.
Arrangements by Hohner Funeral Home.