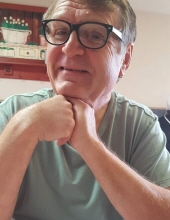 Larry R. Hasbrouck, age 70, of Howe, died unexpectedly at his home on Saturday, November 6, 2021.
Larry was born on December 30, 1950, in Three Rivers to Donald E. and June I. (Sunday) Hasbrouck.
Larry worked for many years as a cabinet maker in the recreational vehicle industry. He was a hard worker so much that he just retired in the summer of 2020. Many years ago, he owned and operated a van conversion business called Van-Go.
He was a member of the Shipshewana United Methodist Church where he was the head on the Admin Board and was very active in the church and on numerous committees. He was a deep lover of fountain Mt. Dew, loved "sharp" cars, and was a wonderful cook who loved to do so. He spent his life sharing his time, love and skills with everyone who needed him, especially his wife, daughters, and grandkids. To them, he was the most loving family man ever.
On June 5, 1971, in Sturgis, he married Karen A. Scott; Mrs. Hasbrouck survives in Howe.
Also surviving are his four daughters, Oxsanna (Jason) Stoken of Marquette, Megan Hasbrouck of Kalamazoo, Alicia Hasbrouck of Kalamazoo, and Kris (Zivan) Zakula of Kalamazoo; his five grandchildren, Cassidy Stoken, Lauren Stoken, Olive Hasbrouck, Zora Zakula, and Sunday Zakula; and a brother, John Hasbrouck of Howe.
Preceding him in death were his parents, and a brother, Donald Hasbrouck.
Visitation will take place on Friday, November 12, 2021, from 11 am until the service time at 1 pm. Visitation and services will take place at Frurip-May Funeral Home, 309 W. Michigan St., LaGrange, IN with Pastor Ezechiel Habwawihe will officiate the services.
Memorials may be made to either LaGrange County Clothes and Food Basket, 413 S. Railroad St., LaGrange, IN 46761 or LaGrange County Habitat for Humanity, 205 E. Wayne St., LaGrange, IN 46761.