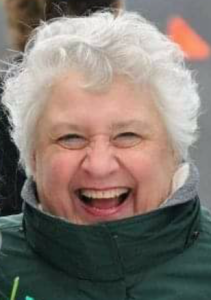 Lucy O'Dell (Harvey) Peterson, age 82, of Constantine, died peacefully at her home surrounded by her family on Thursday, October 28, 2021 just before midnight.  She was born at Birch Lake on January 20, 1939 to Ruel B. and Margaret (Reid) Harvey.
Lucy was raised at Birch Lake, where she spent hours swimming in the lake and told stories of frogging at night. She graduated from Constantine High School in 1957.  She bought a home and returned to Constantine in 1972 to raise her three children, Jeff, Mark, and Lisa.  She worked as a receptionist for the Three Rivers Medical Clinic and Dr. James E. Peterson, but shortly after the move to Constantine, Lucy began working for and eventually retired from Coachmen Industries in Middlebury.  Throughout her 20+ years at Coachmen, Lucy did not shy away from hard work and was an amazing provider; her work ethic was impeccable and was proven by the numerous awards she earned for perfect attendance. In 1997, Lucy married Dr. James E. Peterson. After his death, she went on to work at, as she called it, her "fun job" at (Three Rivers Health) HealthTrac's front desk, greeting members and co-workers with her cheerful, welcoming smile and infectious laugh.
Lucy's life revolved around caring for her family, her friends, and her community; she loved to  give to others. She was a member of the Constantine United Methodist Church where over the years, she served in many different ways and on various committees.  One mission especially close to her heart was the Soup Kitchen where she was happy to serve in whatever way was needed: washing dishes, cooking, cutting vegetables, shopping and connecting with the people. She was an election volunteer, she loved to take trips with her family and friends, was an avid reader, a strategic card and domino player, and said she tried to keep her mind sharp by doing puzzles. During her retirement, she filled her time by spending time with her various ladies' groups: New Year's Eve parties, card clubs, dominos, Hand and Foot, and Pinochle. Lucy loved her movie, auction, breakfast and lunch pals; she frequently said, "I have the best friends!". Lucy was chipper and fun. Everybody loved Lucy. For those who knew her, she made a lasting impression.
Lucy is survived by her three children, Jeffrey J. Wright of Constantine, Mark T. Wright (Lisa), Lisa E. Pangborn (Jeffrey) all of Three Rivers, step children, George Peterson (Jae) of California and Vicki Cohen of Florida, six grandchildren, Mitchell Wright (Jaime), Derek Wright, Annie Pangborn, Maley Hanstine (Garth), Heather Wright, Austin Wright, four great grandchildren Evan and Autumn Schroeder and twin girls Elliette and Raelynn Hanstine, brother-in-law R. Jae Waddell and many dear nieces and nephews.
She was preceded in death by, parents Ruel and Margaret Harvey, a very special aunt, Antoinette (Annie) Spaulding, her husband, Dr. James E. Peterson, two sisters Nancy (Harvey) Waddell, Patricia (Harvey) Peterson, one brother John Harvey (Janice), and two nephews John and James Harvey.
In keeping with Lucy's wishes, cremation has taken place. Visitation will be at the Constantine United Methodist Church on Saturday, November 13, 2021 from 2:00 to 5:00 pm. The family is requesting that visitors please wear a mask.  A celebration of Lucy's life will be held at her beloved Birch Lake in the spring of 2022. In lieu of flowers, memorial donations can be directed to Hospice of Southwest Michigan, a charity of choice or the Constantine United Methodist Church.  Memories and condolences may be expressed to the family at www.eleyfuneralhomes.com.