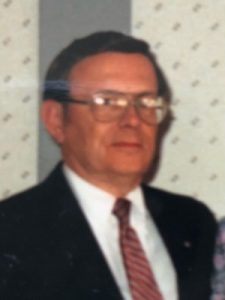 Ronald Lee Hamilton, age 89, of Three Rivers, died Sunday, November 7, 2021 at Skaggs AFC in Burr Oak.  Ronald was born April 20, 1932 in Kalamazoo to Harold E. and Gladys O. (Wedell) Hamilton.  He graduated from Old Central High School in 1950.  He attended Western Michigan University and graduated from the Paper School in 1955.  Ronald served in the U.S. Army for 2 years as a lieutenant in the Anti-Aircraft Artillery in Niagara Falls, NY.  He married his first wife, Beverly, there in 1957.
He was a Master Mason since 1955, attaining Life Membership, and rising to office of Worshipful Master in Ohio in 1968.
Ronald was the Technical Director of White Pigeon Paper Co. for 11 years until he retired in 1996.  He served as Chairman of the Coating Task Force of the Recycled Paperboard Technical Association and was a member of the Technical Association of the Pulp and Paper Industry since 1952.  In prior years he worked for Packaging Corporation of America, Rittman, OH and American Can Co., Neenah, WI.
In 1992, Ronald married Dolores Brueck in Sturgis.  They lived on a farm in Centreville for many years, spent many winters in N. Fort Myers, FL and most recently moved to the Senior Enrichment Center in Three Rivers in 2019.
Ronald liked to play the piano, fish, and garden.  He enjoyed golf, travel, and puttering around the house.  Ronald liked to square dance, and spend time with family.  He was an avid reader and was a member of the Mendon Kiwanis Showboat for many years.
Ronald is survived by his wife Dolores; 3 children; Joan (John) Klier of Rancho Santa Margarita, CA, Mary (Kirk) Anderson of Pittsburg, PA, and Ann Brown of Media, PA.  8 grandchildren; Courtney, Rachel, and Chris Klier. Sean, Ryan, and Josh Anderson. Jennifer and Robert Brown. Great-grandchildren Emma Jean and Carmello Anderson; 5 step children; Diane (Rex) Mayer, Vicky (Richard) Anders, Larry (Vicki) Brueck, Shirley (William) Schuring, and Penny (Tim) Howard. Several step grandchildren and step great-grandchildren; brother Jack (Millicent) Hamilton of Palo Alto, CA. He was preceded in death by his parents; and first wife, Beverly in 1991.
The family will receive friends from 10am until 11am on Saturday, November 13, 2021 at the Eickhoff Funeral Home in Mendon.  Funeral service will be held at 11am at the funeral home following visitation with Rev. Josh Brueck officiating.  Burial will be held at Mt. Everest Cemetery, 3941 South Westnedge Ave, Kalamazoo, MI 49008.  It is suggested that memorial donations be directed to Shriners Children's Hospital at lovetotherescue.org  Memories and condolences may be shared at eickhofffuneralhome.com