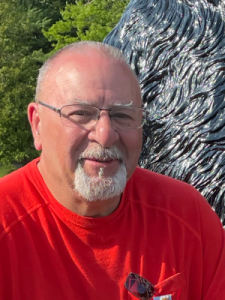 Theodore John Bazant, age 58, of Three Rivers, passed away Sunday, November 7, 2021 at Ascension Borgess Hospital.
He was born February 20, 1963 in Detroit, the son of Donald and Beatrice (Perreca) Bazant.
For many years, Ted worked as a truck driver for Estes Express Lines of Marshall.
He loved his motorcycle, boating, animals and his family; he enjoyed watching football, especially the Colts. He was a member of the Corey Church of the Nazarene.
Remaining to cherish Ted's memory are his wife, Christine (Czado) Bazant; son, Ryan Bazant; daughter, Stephanie Bazant; father, Donald Bazant; brother, Nicholas (Keli) Bazant; sister, Nancy (James) Fedon; nephew, Jimmy Fedon; niece, Jenny Fedon; sister-in-law, Juanita (Vince) Imperiale.
Ted was preceded in death by his mother, Beatrice Bazant.
A memorial mass will be held Saturday, November 20, 2021 at 1:00 p.m. at Corey Church of the Nazarene, 10056 Water St., Three Rivers. Pastor P.J. Horn will officiate.
Donations in Ted's memory may be directed to Corey Church of the Nazarene. Envelopes are available at Hohner Funeral Home.