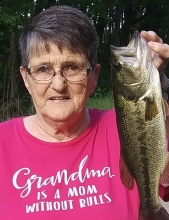 Tonna Marie Grubb, age 69, of Burr Oak, passed away Saturday evening, November 6, 2021 at Parkview Regional Medical Center in Fort Wayne.
She was born January 26, 1952 in Lansing, daughter of the late John L. and Nancy Lee (Kahlor) Garvie.
On July 7, 1979 she married the love of her life, best friend and savior David L. Grubb, Sr. They have been happily married for 42 years. In their time together they raised two loving children.
Tonna loved to watch hunting shows and play Super Mario games. She loved to fish and deer watching with her husband and their dog Kiki. She also loved riding quads with her son-in-law Kurtis. She was a loyal fan of the University of Michigan Wolverines. She loved her family and her grandkids so much; she spent the last 20 months babysitting her youngest grandson, Jacob.
She is survived by her loving husband: David Grubb, Sr.; her children: David (Mandy Salmen) Grubb, Jr. of Burr Oak, Dana (Kurtis) Case of Burr Oak and Tavys Friar of Manchester, New Hampshire; step-mom: Marie Garvie of LaGrange, Indiana; grandkids: Ethan Grubb, Jacob Case and Alexis Hughey all of Burr Oak, Josh Grubb and Izzabella Grub of Athens, Ayden Reaper of Sturgis and Brooke Friar of Manchester, New Hampshire; her siblings: Kelly Garvie and Neil Garvie both of LaGrange, Indiana, Karen Huston of Niagara, Wisconsin, Johnny Garvie of Lansing, Tina Mosurak of Marcellus, Scott Garvie of Elkton, Kentucky, Sheila Monroy of Bellevue and Rick Garvie and many nieces and nephews.
She was preceded in death by her parents; brothers: Lonnie Garvie and James Garvie; baby brother; brothers-in-law: Gilbert Monroy, Sr., Ronald Grubb; mother-in-law: Lucille Grubb; sister-in-law: Diane Grubb and a nephew: Robert Monroy.
In accordance with her wishes cremation has taken place. A memorial service celebrating the life of Tonna Marie Grubb will be held at 2:00 P.M. Friday at the Radiant Life Church in Sturgis. Private burial of the ashes will take place at the Burr Oak Cemetery in Burr Oak at a later date.
The Hackman Family Funeral Homes of Sturgis is entrusted with the arrangements.
Memorial donations would be appreciated to David Grubb Sr. c/o: Dana Case, P.O. Box 302, Burr Oak, MI 49030.
The obituary is also at www.hackmanfamilyfuneralhomes.com where we encourage relatives and friends to share memories and leave condolences for the family.