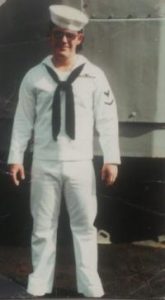 William Andrew Grindel was born on March 12, 1960 to Margaret Bock Grindel and William Henry (Hank) Grindel in Dowagiac, and graduated from Three Rivers High School in 1978. He immediately enlisted in the United States Navy training at the Great Lakes Naval Base and achieve the rank of FTG1 WAG. He was stationed at Yokosuka Naval Base, Japan. Decorations included Battle "E" Ribbon, Navy Expeditionary Medal, Sea Service Deployment Ribbon, Meritorious Unit Commendation, Humanitarians Service Medal, .45 Caliber Pistol Marksman, Meritorious Unit Commendation, M-14 Marksmanship Ribbon, Enlisted Surface Warfare Specialist Insignia, and Good Conduct Award.
Andy passed away of natural causes on October 25, 2021, at his home in Three Rivers. He is survived by his children Amapola Sonora Grindel, William Miguel Grindel, and Cassandra Lee Grindel. Also survived by his former spouse Levi Caliso Grindel, brothers Dan, Scott, and Chris (Charlie) Grindel, and mother, Margaret Bock Grindel. He was preceded in death by his father William Henry (Hank) Grindel.
Andy was an avid outdoors enthusiast. He enjoyed a multitude of hobbies including amateur brewer of spirits, beekeeping, gardening/arborist, camping, fishing, and cooking. He was devoted to the care of his grandson, Carter, up to his final day on earth. He will be severely missed by family and friends. We all look forward to seeing him again at Heaven's Gate. Farewell for now, Andy.
Services will be on Wednesday, November 3rd at 1 p.m. at Hohner Funeral Home followed immediately by a military service at Fairfield Township Cemetery in Marcellus. All are welcome and encouraged to attend.