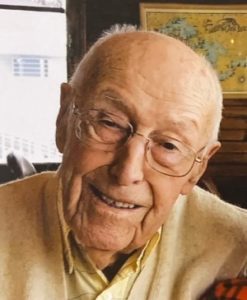 Arnold Duane Sadler, age 96, of Three Rivers, passed away on Sunday, December 12, 2021. He was born on January 8, 1925 in Eagle Grove, IA the son of Edward E. and Marie (Haaland) Sadler.
Arnold graduated from Roosevelt High School in Keego Harbor, MI. After graduation he was drafted into the U.S Navy where he attained the rank of a Motor Machinist Mate during World War II. Upon his honorable discharge he was united in marriage to Anna (Milton) Sadler, who preceded him in death in 2011. He then went to work for Phillips Petroleum which later became California (Cal) Gas Company from where he retired in 1993.
Arnold loved to travel all over the United States with his brothers and sisters and especially enjoyed spending time with his children and grandchildren. The seven brothers and three sisters enjoyed an annual family reunion at various sites in the U.S.
Arnold enjoyed golf and gardening. His flower gardens had many unique flowering plants which he readily shared.
He was preceded in death by his parents; wife, Anna; two sisters; four brothers; and son-in-law, Henry Kohl.
Surviving to cherish Arnold's memory are children, Kim (Judy) Sadler, Kathie Kohl, Kelly Sadler and Kristan (Gary) Bristol; one sister and two brothers; eight grandchildren and 20 great-grandchildren.
The family will receive friends on Saturday, December 18, 2021 at 10:00 a.m. at St. Peters Evangelical Lutheran Church, 1200 Arnold St., Three Rivers. Funeral services will follow at 11:00 a.m. at the church with Pastor Ron Moritz officiating.
Interment will be held at Moorepark Cemetery with military honors under the auspices of the American Legion Post #170.
Memorial donations in memory of Arnold may be directed to St. Peter's Evangelical Lutheran Church. Envelopes will be available at the church.
Arrangements by Hohner Funeral Home.