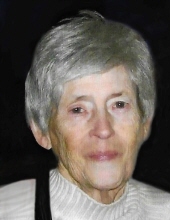 Beverly Jean Sherburn, age 79, of Mendon, passed away on Monday, December 27, 2021 at ProMedica Coldwater Regional Hospital.
Beverly was born January 16, 1942 in Marcellus to Raymond and Twilla (Oxley) Wright. She graduated from Marcellus High School in 1960. On September 17, 1960 she married Leland Glea Sherburn, Jr. in Roseland, IN. They had been married for 60 years at the time of his death in May of 2021. Beverly was employed as a cosmetic coordinator for CVS Pharmacy in the Detroit area until retiring on the river in Mendon. She enjoyed spending time with her family, reading and collecting elephants.
Beverly left behind many loved ones: a son, Leland G. (Darcy) Sherburn III of Martell, NE; a daughter, Amy (John) Powers of Union City; grandchildren, Bryan (Maryssa) Sherburn of Denver, CO, Emily (Shawn) Gantz of Omaha, NE, Jacob Powers of Fremont, IN, Joshua and Jennifer Powers of Union City; brothers, Wayne (Darlene) Wright of Oklahoma City, OK and Bert Wright of Hopkins; and special friends, Sandy (Dave) Forbush and Larry (Karen) Henry.
In addition to her husband, Beverly was preceded in death by her parents, and her sister, Gleola.
A private memorial service will be held at a later date.
Arrangements by Lighthouse Funeral & Cremation.