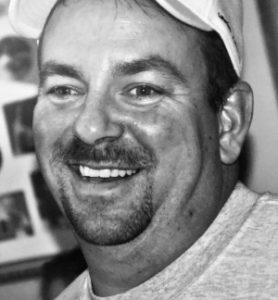 Clint L. Harrison, age 55, of Mendon, passed away at his home surrounded by his family on Sunday, December 19, 2021. He was born on March 24, 1966 in Three Rivers, the son of Douglas and Sheila (Gage) Harrison. Clint was a graduate of Mendon High School in 1984. After high school, he enlisted in the United States Army and served his country for 3 years. On August 29, 1992 Clint married Dawne M. Heath in Mendon. He was employed at the Sturgis Foundry, Constantine Creamery, and later worked at Abbot Labs in Sturgis for 24 years. In his spare time, Clint enjoyed hunting, four-wheeling, and was a member of the NRA. He was a loving family man, who enjoyed watching his children play sports and taking them to heavy metal concerts.
Clint is survived by his wife of 29 years, Dawne Harrison. 2 children; Shelby Harrison of Mendon, Cole (Bailey) Harrison of Three Rivers. 2 sisters; Kimberly (Mike) Deel of Mendon, Kristine (Travis) Weiss of Portage. 1 brother; Clifford Harrison of Mendon. Parent in-laws Tom and Sharon Heath of Leonidas, and sister in-law Angel (Shannon) Murphy. 5 nieces and nephews; Cameron (Allyson) Deel, Taylor (Ryan) Harrison, Jac (Kirsten) Murphy, Ian Murphy, and Madalyn Weiss. Godsons Christian and Jared Adams. Several aunts, uncles, and cousins. And his loving dog, Ranger. Clint was preceded in death by his parents, Douglas and Sheila Harrison.
The family will receive friends from 2 to 4p and 6 to 8p on Wednesday, December 22, 2021 at the Eickhoff Funeral Home in Mendon. Funeral services will be held at 11am on December 23, 2021 at Crossroads Missionary Church in Mendon. Burial will be held at South Park Cemetery. It is suggested that memorials and contributions be made to they family. Condolences and memories may be shared to the family at eickhofffuneralhome.com.