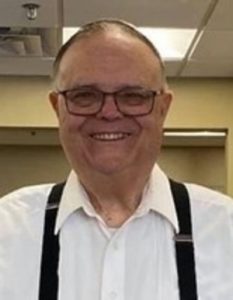 David J. Farrell, age 81, of Colon, passed away on Saturday, December 25, 2021, at Three Rivers Health.
David was born on February 24, 1940, in Flint, a son of the late Benjamin and Marian (McGrath) Farrell.
David graduated from Flint Central High School with the class of 1958. David then earned a Bachelor's Degree in Religious Education from the Baptist Bible Institute of Grand Rapids, now known as Cornerstone University. Shortly after, David completed Baptist Seminary School finishing in 1965. In 1972 David earned another Bachelor's Degree in Elementary Education from Western Michigan University. Years later in 1978 David earned his Master's Degree in Literacy also from Western Michigan University.
On June 9, 1962, David married his wife of 59 years, Marilyn L. Perry at the Colon Baptist Church.
David worked as a clerk at the Perry Hardware Store in Colon. David also retired from Colon Community Schools after serving as an elementary school teacher for many years. David served as Lay Pastor for both the Colon Baptist Church and the Leonidas Bible Church for many years as well.
David was a devout member of the Colon Baptist Church. He served as the founding president, vice president, and treasurer for the Colon Historical Society, and served as secretary for 10 years on the Colon Park Board.
David is survived by his wife Marilyn L. Farrell of Colon, three children: James (Shari) Farrell of Rockford, Timothy (Brooke) Farrell of Rockford and Kimara (Joe) Geibe of Sturgis, grandchildren: David J. Farrell, Olivia A. Farrell, John I. Farrell, Benjamin J. Farrell, Lincoln P. Farrell, and John Walton Ceus, step grandchildren: Joe (Linda) Gest, and Paige (Zach) Spiegla, step great grandson Owen, sister Binnie (David) Markham, sister-in-law Linda Farrell and a nephew Thomas Farrell.
Besides his parents David was preceded in death by his brother Thomas E. Farrell, and a niece Susan Collier.
The Farrell family will receive friends and relatives on Tuesday, December 28th, from 4 to 7 PM at the Schipper Funeral Home in Colon. A funeral service will take place on Wednesday, December 29th, at 12:00 PM at the Colon Baptist Church. A private committal service will take place prior to the service in South Colon Cemetery. Service will be officiated by Pastor Curtis Bennett. The family asks any memorial donations to be directed towards either the Colon Historical Society or the Colon Baptist Church. Online condolences may be left for the family at Schipperfuneralhome.com.